Qatar Philharmonic Orchestra to stage Warm Up Concert for FIFA World Cup Qatar 2022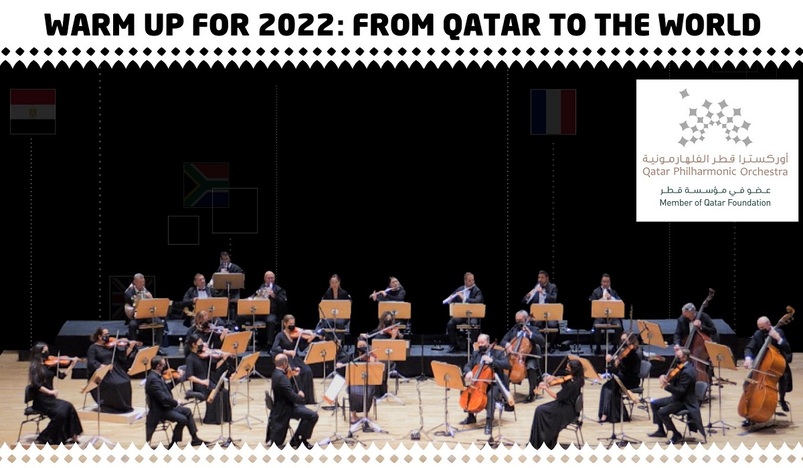 Warm Up Concert for FIFA World Cup Qatar 2022 by Qatar Philharmonic Orchestra
As 2022 draws near, Qatar Philharmonic Orchestra (QPO) is prepping up for the upcoming FIFA World Cup with a warm-up concert entitled, "Warm Up for 2022: From Qatar to the World" on October 16 the Qatar National Convention Center - Auditorium 3.
The special one-of-a-kind warm-up concert happening this Saturday, from 5pm to 7.30pm, will include iconic football anthems from around the world and is a show not to be missed. 
The show will serve as a warm-up performance, gearing up Qatar's community for the 2022 FIFA World Cup™.
Programme
The musical performance will include more than 15 globally acclaimed songs such as:
• The Final Countdown
• Waka Waka
• Hayo Fariqi
• Al Deera
• And more
There will be no intermission in this concert. Programmes and artists are subject to change. 
Ticket Sales
Tickets must be purchased online. There are no refunds or exchanges. To book your tickets, visit www.q-tickets.com. 
Note: Discounted tickets need to be booked through the QPO Box Office at qpoboxoffice@qf.org.qa. Groups eligible for 1 ticket with a 15% discount are: Students, disabled individuals, QF staff & Qatar Airways staff. Proof is required to avail the discount.
To avail mentioned discounts, individuals will have to show their student, staff or disability cards/tags.
COVID-19 Guidelines
• Only fully vaccinated or individuals showing a negative rapid antigen test within 72 hours of the concert will be permitted into the venue.
• All attendees must wear a face mask at all times, maintain a social distance of 1.5 meters, present a green Ehteraz status, and have a temperature reading of less than or equal to 37.8 °C to be admitted into the venue.
Admission
• Children under 6 years old will not be admitted into the venue.
• Audience members will be guided to their seats by a QPO representative.
• Allocated seats by organisers must not be changed for health and safety reasons.
• Anyone not complying with the Ministry of Public Health's Covid-19 guidelines will be ejected from the venue.
• Doors close promptly at concert commencement.
• Out of respect for the musicians and fellow audience members please silence your mobile phones and refrain from flash photography.
• Seating begins 30 minutes before performances.
• Latecomers cannot be seated during the concert.
• If an audience member leaves the venue during the concert, they will be reseated at the closest available seat to the exit upon re-entry.
• The Philharmonic retains the right to expel anyone disturbing other concertgoers.
• Food and beverages cannot be consumed in the venue (water only).
• The Philharmonic accepts no personal liability of any sort. 
Upcoming Concerts
October 23
QPO will also hold a concert on October 23 at QNCC's Auditorium 3, showcasing "The Best of Baroque – Vivaldi's 'The Four Season.'
"The performance will feature George Frideric Handel and Antonio Vivaldi classics, with a special nod to Vivaldi's best-known work The Four Seasons, a set of four violin concertos that are considered the world's most popular and recognised pieces of Baroque music," QPO said in a press statement.
The audience will see Eunhye Lee (piccolo), Christoph Teichner (harpsichord), and French violinist Lyonel Schmit, perform at the concert.
Besides the conductor of the concert, Schmit, renowned for his phenomenological approach to music, will also perform as a soloist on Vivaldi 'The Four Seasons.'
The programme will begin with Handel's (1685–1759) 'Music from the Royal Fireworks', HWV 351 – Overture, followed by Vivaldi's (1678–1741) Concerto in A minor for piccolo and strings, RV 445 – Movement I. It will also feature Handel's Solomon, HWV 67, Act III 'The Arrival of the Queen of Sheba'; and finally, Vivaldi's 'The Four Seasons."
Handel wrote 'The Music for the Royal Fireworks' to highlight the festivities of the Aix-la-Chapelle peace treaty, marking the end of the Austrian Succession War in 1748.
QPO noted that Vivaldi's The Four Seasons were "a revolution in musical conception: in them Vivaldi represented flowing creeks, singing birds (of different species, each specifically characterised), a shepherd and his barking dog, buzzing flies, storms, dancers, hunting parties from both the hunters' and the prey's point of view, frozen landscapes, and warm winter fires".
Vivaldi, born in 1678, was the son of a barber who later served as a violinist at the great Basilica of St Mark. He studied for priesthood and was ordained in 1703.
October 27
QPO's upcoming performance at QNCC includes Mozart's Piano Concerto No. 27 on October 27 – his final piano concerto before his passing. Performers include Sonja Park (piano) and Schmit, as the concertmaster and conductor.
QPO stressed that "attendees will be only admitted if they are fully vaccinated or present a negative rapid antigen test within 72 hours of the concert start time."