Qatar Participates in UN Counter-Terrorism International Conference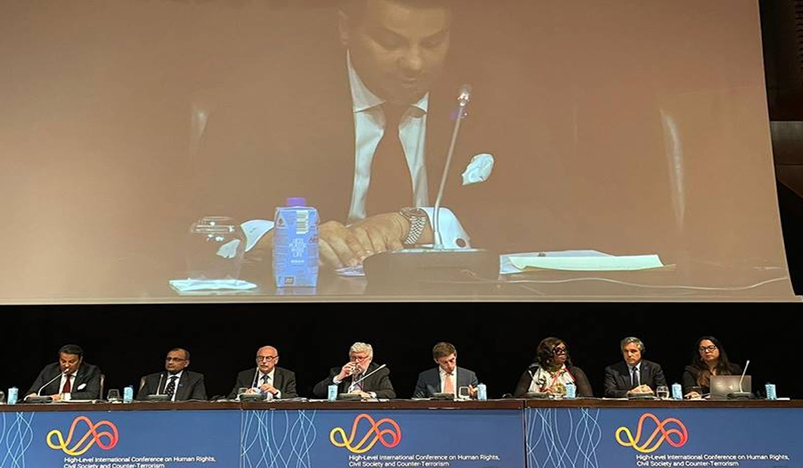 Qatar Participates in UN Counter-Terrorism Office's Malaga International Conference
The State of Qatar reiterated its condemnation of all acts of terrorism and violent extremism conducive to terrorism as criminal acts that cannot be justified regardless of their motives, stressing its commitment to strengthening international cooperation to confront this dangerous scourge in its various dimensions.
This came in the statement of the State of Qatar delivered by HE Ambassador of the State of Qatar to Spain Abdullah bin Ibrahim Al Hamar, at the high-level international conference on human rights, civil society and combating terrorism, organized by the United Nations Counter-Terrorism Office and the Spanish government in Malaga from May 10-11.
The statement said that terrorism in all its forms and manifestations aims to undermine human rights, calling for the need to take the necessary steps to prevent and combat it, in addition to understanding the various aspects of the terrorist threat, including the link to racism and religious intolerance.
In its statement, the State of Qatar warned that the measures taken to prevent and combat terrorism and prevent violent extremism would undermine human rights, fundamental freedoms and the rule of law, stressing that, in taking these measures, states must abide by their obligations under international law, including the UN Charter.
The statement also urged states to refrain from using the fight against terrorism as an excuse to violate human rights and suppress basic freedoms, which would undermine counter-terrorism efforts, stressing the importance of the full and balanced implementation of the United Nations Global Counter-Terrorism Strategy, including the fourth pillar concerned with the protection of human rights in the context of combating terrorism.
The State of Qatar drew attention in its statement to its efforts at the national level as an effective international partner when it comes to combatting terrorism, especially the focus on education to help prevent terrorism and violent extremism conducive to terrorism. The statement clarified the State of Qatar's policy that focuses on protecting human rights, especially for women and children, in addition to promoting and protecting the rights of victims of terrorism, and supporting the program for victims of terrorism undertaken by the UN Counter-Terrorism Office. 
Source: QNA