Qatar Participates in High-Level UN Meeting on Social Protection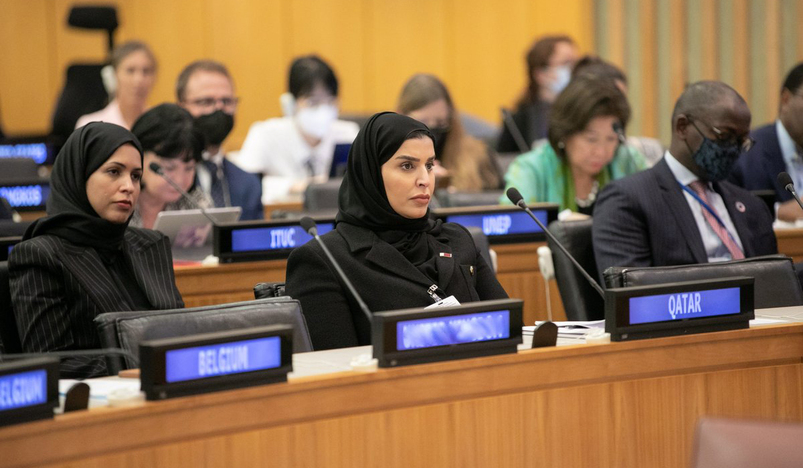 UN Meeting on Social Protection
The State of Qatar took part in a high-level UN meeting held on the sidelines of the 77th session of the United Nations General Assembly on "Partnering for Action: Implementation of the Global Accelerator on Jobs and Social Protection for Just Transitions in the Complex Setting of Overlapping Crises", at the United Nations Headquarters in New York City.
The State of Qatar was represented at the meeting by HE Minister of Social Development and Family Maryam bint Ali bin Nasser Al Misnad, in the presence of HE the UN Secretary-General Antonio Guterres.
In a speech during the meeting, HE Minister Maryam bint Ali bin Nasser Al Misnad underlined the State of Qatar's support for the UN efforts on jobs and social protection for just transitions.
HE the Minister said that the directives of HH the Amir Sheikh Tamim bin Hamad Al-Thani have always prioritized creating job opportunities and social protection to achieve a sustainable development policy at the national and international levels.
Her Excellency added that Qatar considers human development as one of the four pillars of achieving national growth and prosperity; therefore, the Qatari government invested in high-quality educational and training programs to help citizens retain or change jobs and adapt to green and digital transformations.
Her Excellency stressed that the government's interest went beyond the institutional career sector to reach the domestic private sector. The Ministry of Social Development and Family launched the "From the Homeland" program, through which it provides support services to enable productive families to develop their skills in order to ensure the sustainability of their financial resources.
HE the Minister of Social Development and Family expressed pride in Qatar's continuous efforts which were embodied in the formation of a new legal framework to protect workers' rights and jobs.
(QNA)