Qatar National Swimming Team Shine in General Stages of GCC Aquatic Championships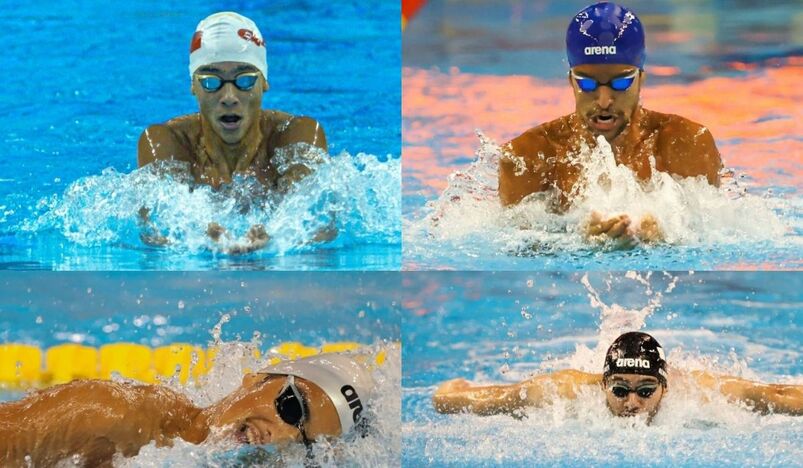 Qatar National Swimming Team
Qatar national swimming team on Saturday won 4 medals (one gold, two silvers and one bronze) in the general stages of the 28th GCC Aquatic Championships, currently in session in Doha with the participation of the six GCC countries.
The tournament is organized by Qatar Swimming Association at Hamad Aquatics Centre and will conclude tomorrow, Sunday.
In today's competitions, Mohammed Mahmoud won the gold in the 200m freestyle; Abdulaziz Al Obaidli won silver in the 50m breaststroke; Feras Saidi won silver in the 100m freestyle; while the Qatari relay team won the bronze in race 4 of the 200m freestyle.
Board Member of Qatar Swimming Association (QSA) and Head of the Water Polo Committee at QSA Khalid Abdullah expressed pleasure with the Qatari performance in the 28th GCC Aquatic Championships in Doha.
Abdullah said that the national team presented good levels in the competitions and was a strong competitor, noting that the purpose of the participation aimed at gaining more experience given that the team is in the stage of preparation and development.
He praised the Qatari team's accomplishment of the title of the age group after winning 30 gold medals, stressing that this number of medals which is achieved for the first time reflects the development of the Qatari swimming level and its excellence at the Gulf level.
Khalid Abdullah underlined the great attention paid by Qatar Swimming Association to all teams in order to advance their performance and achieve more distinguished results in future competitions at all levels.
Swimmer Mohammed Mahmoud expressed delight with winning the gold medal in the 200m freestyle race, noting that the competition was strong, but he managed to win the gold and achieved a new Qatari record in the race.
Mahmoud looked forward to winning more medals in the closing day tomorrow to ensure the best possible position in the general stages after winning the title of the age group competitions. (QNA)