Qatar National Library Inaugurates First Libraries Lead Annual Forum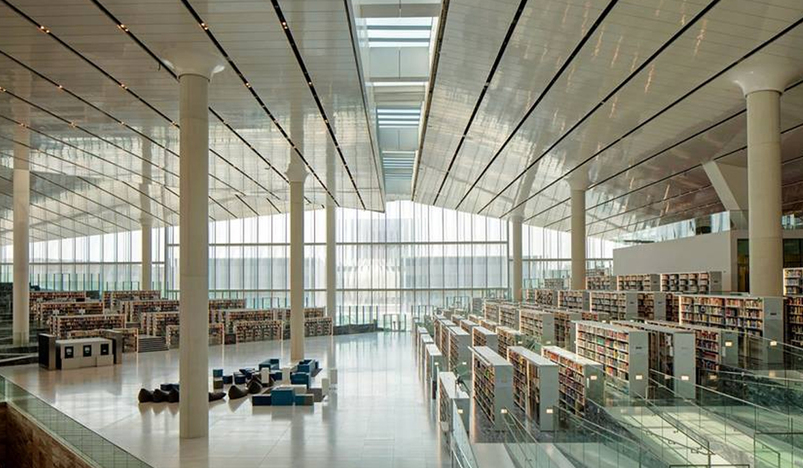 Qatar National Library
Qatar National Library held Monday the first day of the Libraries Lead forum. The two-day forum brings together library professionals to foster initiatives to advance the UN Sustainable Development Goals (SDGs) 2030 Agenda.
The opening was attended by HE Minister of State and President of Qatar National Library Dr. Hamad bin Abdulaziz Al Kawari, HE Undersecretary of the Ministry of Education and Higher Education Dr. Ibrahim Al Nuaimi, President of the International Federation of Library Associations and Institutions (IFLA) Barbara Lison, and a number of librarians from Qatar and abroad.
The forum will discuss ways and initiatives that libraries contribute to achieving the UN Sustainable Development Goals 2030, bringing together library and information specialists and representatives of relevant local and international bodies to exchange experiences and the best practices on efforts that support the achievement of the UN Sustainable Development Goals.
Opening the forum, HE Minister of State and President of Qatar National Library Dr. Hamad bin Abdulaziz Al Kawari said that the forum is consistent with Qatar National Vision 2030 and the library's mission and goals, and reflects the commitment of the State of Qatar and Qatar National Library to the UN Sustainable Development Goals.
He noted that the seventeen sustainable development goals represent a high-level civilized and human achievement, and set an example for the global cooperation for the good and benefit of humanity, adding that Qatar National Vision 2030 has agreed with the Sustainable Development Goals in the priorities of education, poverty eradication, health care provision, and environmental preservation.
He said that although Qatar has come a long way in achieving sustainable development goals in the areas of health, education, the economy and the fight against poverty, it spares no effort to provide a helping hand and assistance to achieve the sustainable development goals for other peoples of the world, especially in areas of conflict, war and crisis; praising in this regard the initiatives of Qatar Fund for Development, Qatar Charity and Qatar Red Crescent.
He also noted the efforts and initiatives of Qatar Foundation for Education, Science and Community Development in supporting the sustainable development goals by enriching creativity and innovation, and developing scientific research in the fields of education and health through many initiatives. Meanwhile, he pointed to Qatar National Librarys efforts in achieving the sustainable development goals through many events, programs and activities. 
Source: QNA