Qatar Museums to offer educational programs for people of all ages in October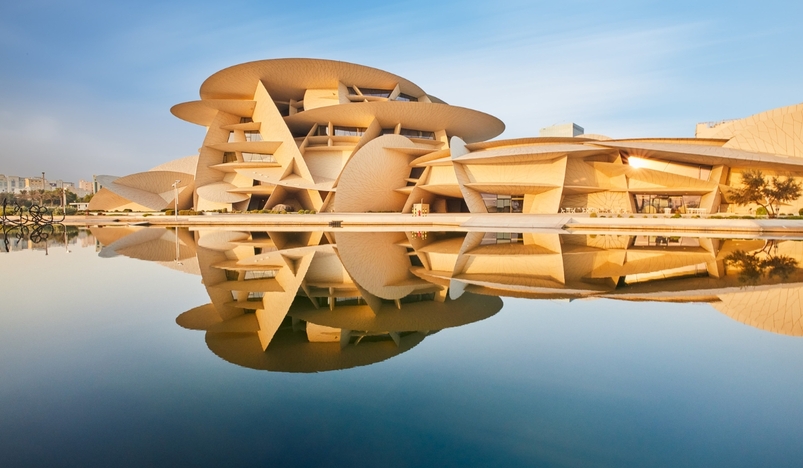 Qatar Museums' October educational programs
Doha, Qatar: Qatar Museums are actively involving the community in a wide range of public events in October. These include art workshops, reading clubs, family sessions, and design workshops for kids.
These engaging activities are scheduled at multiple venues throughout October, including The Museum of Islamic Art, the National Museum of Qatar, Mathaf: Arab Museum of Modern Art, 3-2-1 Qatar Olympic and Sports Museum, and M7.
The Museum of Islamic Art has an array of complimentary workshops lined up for this October, including a thrilling treasure hunt, a captivating story-telling session, and an exciting themed family day.
Reading Goals (October 3 | 11 am - 12 pm):
Reading Goals is a monthly storytelling event designed for youngsters with an interest in sports, particularly football. It encompasses reading, sports-themed crafts, and other engaging activities. Participants will also partake in a Generation Amazing activity, known as "Football for Development," inspired by the FIFA World Cup Qatar 2022™. This activity addresses global social issues in an educational context.
Saturday Colouring in the Library (October 7 | 12 pm - 5 pm):
Spend a leisurely Saturday afternoon at MIA Library, indulging in creative coloring of intriguing Islamic patterns with your family.
Family Day - Water (October 14 | 2 pm - 4 pm):
Each month, we draw inspiration from MIA and the world around us. In October, join us at MIA park to delve into the significance of water within the context of the museum's rich collection.
Treasure Hunt (October 17 | 2 pm - 4 pm):
Embark on an enthralling treasure hunt adventure to explore MIA's artifacts in an enjoyable, informative session. MIA's treasure hunt program is renowned for providing valuable insights into the history of Islamic art. To book or inquire, please email whatsonatmia@qm.org.qa.
Planet Kids Club - The Very Hungry Caterpillar (October 30 | 4 pm - 5 pm):
Join us every month for diverse activities centered around the theme of safeguarding our planet. This includes storytimes that emphasize environmental care, various arts and crafts, and educational segments about museum objects. The workshop is conducted in both English and Arabic, with limited availability. For booking and inquiries, please email libarymia@qm.org.qa."
The National Museum of Qatar (NMoQ) is set to launch an exciting new storytelling session in its heritage garden this October, along with a series of coffee-themed activities in conjunction with the latest exhibition, 'Growing Kopi, Drinking Qahwa: Stories of Coffee in Qatar and Indonesia.'
The Valley of Colocynth (October 7 | 4 pm - 5 pm):
Join NMoQ for an engaging storytelling session that unveils the tale of Wadhah's quest for Colocynth. Following this delightful narrative, children can craft their own handmade mementos inspired by the story.
Coffee in Qatar and Indonesia (October 25 | 5 pm - 7 pm):
Embark on a caffeine-infused cultural exploration! Dive into an enlightening lecture about the coffee cultures of Qatar and Indonesia, delving into their unique traditions and captivating stories. Don't miss out on this flavorful journey!
Indonesian Night (October 27 | 4 pm - 5 pm):
Immerse yourself in the enchanting ambiance of an Indonesian Night at the National Museum of Qatar. Experience an evening filled with music, dance, a dazzling Batik fashion show, and the rich cultural tapestry of Indonesia. This cultural journey unfolds at Darwish Al Far auditorium.
Brewing & Storytelling Competition (October 28 | 3 pm - 7 pm):
Calling all talented baristas in Qatar! Showcase your coffee artistry in our brewing competition. Compete for recognition, prizes, and the hearts of coffee enthusiasts. Join this ultimate coffee showdown today!
A Story of Arabic Coffee (October 30-31 | 1 pm - 2:30 pm [English] 4 pm - 5:30 pm [Arabic]):
Participants will delve into the history of Arabic coffee, gaining insights into the traditions, necessary equipment, and rituals associated with its preparation and serving in Qatar. As part of the tour, they will have the opportunity to savor this flavorful beverage. To secure a spot, please contact toursnmoq@qm.org.qa.

This October, the 3-2-1 Qatar Olympic and Sports Museum (3-2-1 QOSM) has a lineup of engaging activities for school children, including storytelling sessions, guided school tours, and a writing competition.
Storytelling Sessions (Every Saturday | 4 pm - 5 pm):
3-2-1 QOSM will host storytelling sessions every Saturday in October for children aged 7-11. These sessions are available in both Arabic and English and run from 4 pm to 5 pm. Here's what's in store:
October 7: 'Octopus Shoctopus!' by Peter Bently
October 14: 'The Patient Boy from Another Time'
October 21: 'Tales From Fern Hollow - Sports Day' by John Patience
October 28: 'My First Hunt' by Beverly King
QOSM Guided School Tours (Every Sunday, Tuesday, and Thursday | 9 am - 11 am):
These guided tours offer schools and students a comprehensive overview of the 3-2-1 Qatar Olympic and Sports Museum, exploring its permanent galleries. The tour covers various topics, including 'A Global History of Sport,' 'The Olympics,' 'Hall of Athletes,' 'Global Sport Nation,' and 'Qatar Sports Culture.' To book a tour, visit 321qosm.org.qa.
321 Writing Competition for Schools (Deadline: October 31 | 9 am - 12 pm):
Calling all Grade 7-9 students! Participate in the inaugural '321 Write' creative contest hosted by QOSM. This year's theme is 'Qatar as a Hosting Nation for Sports Events.' For details, visit 321qosm.org.qa.
For those interested in registering for workshops at the 3-2-1 Qatar Olympic and Sports Museum, please email OSMEducation@qm.org.qa or visit 321qosm.org.qa/en/.
Mathaf: Arab Museum of Modern Art is all set to host a series of exciting art workshops for children and youth throughout October, including new sessions focusing on sculpture and modern art.
Making Faces: Mixed-Media Sculpting for Young Artists (October 14 & 28 | 11 am - 12:30 pm):
Inspired by the works of Iraqi American artist Michael Rakowitz, Mathaf's two-day workshop will encourage 5-7-year-olds to explore sustainability, learn art vocabulary, and create mixed-media sculptures. The first day includes a themed-gallery tour, followed by a sculpting session, and on the second day, participants will paint and decorate their sculptures using recycled materials.
Art Making in Manara (October 18 & 25 | 4 pm - 5:30 pm):
In the 'Artmaking in Manara' sessions, participants embark on a surprise-filled journey exploring different facets of Modern Art while creating their own artworks. These two-day sessions for 13-16-year-olds are inspired by Lebanese artist Etel Adnan's landscape art. Attendance on both days is required to complete the projects.
Art Workshop / Manara (October 3, 10, 17, 24, 31 | Sat 11 am - 12 pm, Tuesday 4 pm - 5 pm):
In these weekly workshops, children discover various art techniques and express their creativity through different mediums.
Art Lessons with Ismael Azzam (Every Sunday and Monday | 4 pm - 7 pm):
Join artist Ismael Azzam at Manara Studio - Mathaf for art lessons in portraiture drawing using pencil, charcoal, and paint. To register for these sessions, contact mathaf_education@qm.org.qa.
M7, Qatar's hub for innovation and entrepreneurship in fashion and design, presents an exciting lineup of public programs during the Masterpieces of Furniture Design exhibition.
Vitra Playhouse (October 7 | 10 am - 12 pm):
Children are invited to tour the exhibition to learn the basics of interior design and draw inspiration from the displayed furniture pieces. They will be provided with printed objects to create a complete room.
100% Cardboard (October 21 | 11 am - 1 pm):
This workshop focuses on interior design and sustainability. Participants will use cardboard to build furniture pieces inspired by the exhibition, all made from 100% cardboard.
M7 Speaker Series - Crafting Spaces Talk (October 25 | 6:30 pm - 8 pm):
A panel discussion spotlighting Doha's thriving design community and the innovators in the field of interior and product design. Featuring Abdulrahman AlMuftah, Dr. Thomas Modeen, Shua'a Ali, and Amanda and Jo Booabood.
For bookings and more information, please contact: contact@m7.org.qa.
For the full schedule of exhibitions, public workshops, tours, and events, visit https://qm.org.qa/en/calendar/.