Qatar making great strides on ecofriendly sustainable transportation plans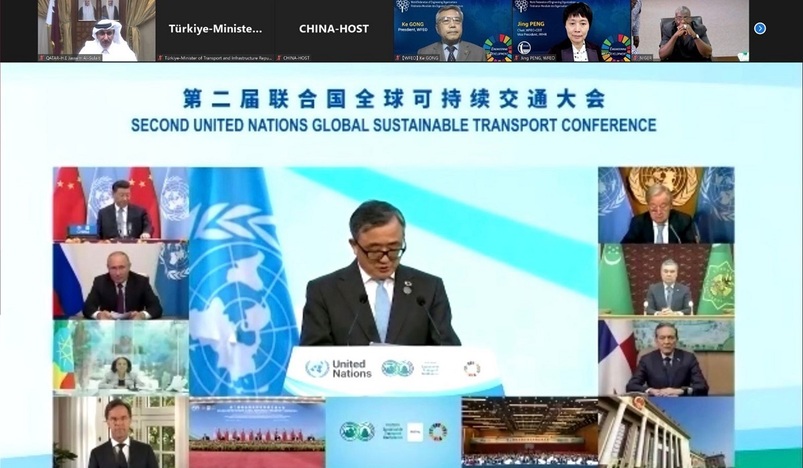 Minister Heads Qatar Delegation to 2nd UN Global Sustainable Transport Conference
The State of Qatar has participated in the Second United Nations Global Sustainable Transport Conference. Hosted by Beijing, China, the Conference was inaugurated today via videoconferencing by President of the People's Republic of China HE Xi Jinping and UN Secretary-General Antonio Guterres. The Qatari delegation was headed by Minister of Transport and Communications HE Jassim Saif Ahmed Al-Sulaiti.
The minister also participated in the Plenary Ministerial Session held during the conference and chaired by Chinese Minister of Transport HE Li Xiaopeng.
Providing an opportunity to focus attention on the opportunities, challenges and solutions towards achieving sustainable transport worldwide, the event is attended by several heads of states and governments, diplomats, representatives of international and civil society organizations and chairs of businesses and organizations from the private sector.
The Conference is discussing key transportation issues that serve the UN Sustainable Development Agenda 2030 and the Paris Climate Agreement, in addition to several topics relating to the impact of sustainable transportation on economic recovery, green development, regional development, innovation, city sustainability, poverty eradication and the role of technology in transportation sector sustainability.
Qatar has made great strides on its ecofriendly sustainable transportation plans. In this regard, MOTC, in association with bodies concerned, has begun executing a strategy for a full and gradual switch to electric buses, aiming to electrify public transit buses by 2030. Work is underway to set up the necessary infrastructure for the first phase of the transformation plan, including establishing stations and warehouses for electric buses, scheduled to be finalized by 2022. Work is also ongoing to establish 100 parking spaces for electric vehicles and to install more than 600 charging units as a first phase. In addition, MOTC, in collaboration with the bodies concerned, has begun rolling out the EURO 5 diesel regulation for cars – a diesel with lower impact on the environment.
With regard to ports, the second phase of Hamad Port is powered by clean electric energy, thus contributing to achieving the Qatar National Vision 2030.
Source: MOTC