Qatar is represented by three exceptional innovators on Forbes Middle East's list of the 30 Under 30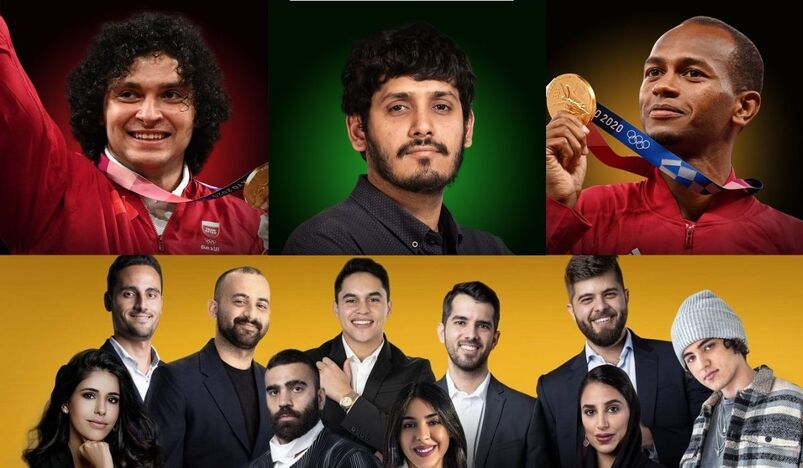 Qatar's Emerging young talents featured on Forbes 30 under 30
As Forbes magazine picks the region's most successful Gen-Z and millennials, new faces make their appearance on the list this year.
The magazine's board carefully evaluated the "Impact that candidates had on their industry, market and society" as well as their future potential after carefully selecting them from a pool of over 300 applicants through two rounds of a thorough review. According to Forbes, candidates do not have to be Middle Easterners to be considered, but they must live in the region.
Releasing its own Middle East and North Africa version of the desirable list, Forbes highlighted some of the region's most brilliant and hardworking young people. Among them are two Qatari Tokyo 2020 Olympic Gold Medalists and one Qatar-based Pakistani entrepreneur.
The class of 2021 is divided into six unique categories, ranging from sport to e-commerce to technology and finance to creative. It includes a diverse group of bright and talented individuals from 11 nations, 20 nationalities, and 38 soon-to-be regional anchors.
This list named Qatari track-field athlete Mutaz Barshim and Weightlifter Fares El-Bakh, who won gold medals and made headlines at the Tokyo Olympics this summer. The rewarding line-up also included Haris Aghadi, a Qatar-based entrepreneur listed in the "Impacts category."
Mutaz Barshim was described as a "Qatari high jump world champion and holder of the Asian world record" in the sports category. It was stated that he had the second-highest jump in history, measuring 2.43 meters. According to Forbes, "Barshim was motivated to take up the sport by his father, an athlete in the national walking and running teams."
Fares El-Bakh, on the other hand, was featured under the sports category for winning "Qatar's first gold medal at the Tokyo 2020 Olympics in the 96kg division."
El- Bakh was coached by his father, Ibrahim Hassouna since he was nine years old. Hassouna represented Egypt in weightlifting at the Olympic Games in 1984, 1988, and 1992. El-Bakh is a two-time Junior World Champion who competed till 2018 in the 85kg and 94kg weight classes. According to Forbes, he holds the junior world records in the clean and jerk (225kg) and total (397kg) in the 96kg division.
Aghadi, who studied Information Systems at Carnegie Mellon University in Qatar, was announced in the impact category as a Pakistani CEO and Co-founder of Meddy. An online platform that "helps patients find doctors best suited to their needs based on filters and reviews, and book appointments with them."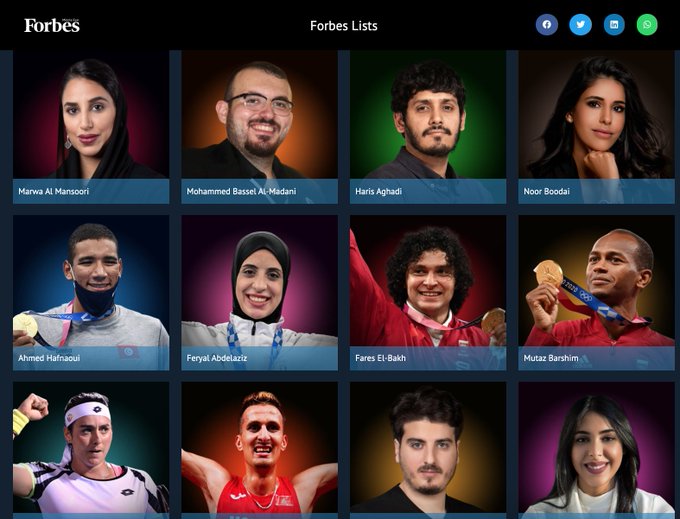 With over 70,000 patient reviews, the technology health assistant, launched in 2015, has contributed significantly to helping individuals in the UAE and Qatar. In the height of the COVID-19 pandemic, Meddy helped clinics digitize, process payments online, conduct quality video calls and prescribe medications.
As we sweep over the Arab World with a fine brush in search of the region's builders of the 2020s, we can only hope that the handful of selected pioneers and game-changers live up to the expectations of their ambitions and objectives. With a stylish appearance, sharp minds, and compassionate hearts, this bunch definitely has it all.