Qatar International Baja Participants Hail Excellent Organization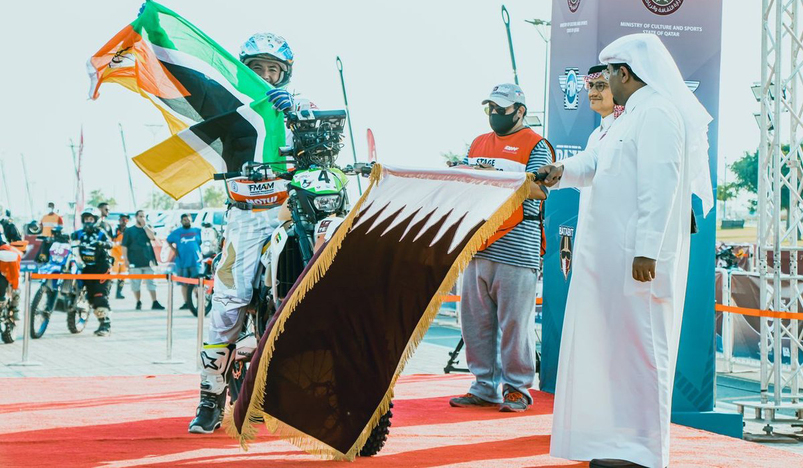 Competitors of the Qatar International Baja
The competitors of the Qatar International Baja confirmed their readiness to compete in this global event, praising its distinguished organization.
Rescheduled from its original April calendar slot because of the Covid-19 crisis, the Qatar Motor and Motorcycle Federations flagship off-road event is now the fifth counting round of the 2021 FIM Bajas World Cup.
The three-day event witnesses the participation of 48 competitors representing 15 countries, including eight Qataris. It will be held at the Al Bayt Stadium, one of the stadiums of the 2022 FIFA World Cup Qatar, on Saturday afternoon.
In his speech at the press conference in Al Bayt Stadium, Executive Director of the Qatar Motor and Motorcycle Federation (QMMF) Amr Al Hamad expressed his appreciation to all the QMMF workers for their continuous efforts to ensure the success of all events organized in Qatar.
Al Hamad said that Qatar will also host a prestigious Formula 1 Grand Prix event at the Losail International Circuit on November 21.
QMMF Executive Director expected that the Qatar International Baja competitions will be strong and exciting, in light of the participation of a large and prominent elite of world champions and distinguished drivers, including a large number of Qataris.
Al Hamad noted the great effort made by the QMMF to organize the Qatar International Baja, a round of the FIM Bajas World Cup, in light of the circumstances the world is going through due to the COVID-19 pandemic.
He expressed his hope for the success of the tournament, wishing safe competition for all drivers, especially that the Qatari deserts are difficult in rally racing, due to the difficulty of navigation and the nature of the rough and gravel roads.
Drivers from Qatar, Kuwait, Saudi Arabia, Jordan, Lebanon, the UAE, Bahrain, Australia, Tunisia, Russia, Mozambique, Britain, New Zealand, Germany, and Italy partake in the Qatar International Baja.
SOURCE: QNA