Qatar General Electricity and Water Corp. Signs MoU with College of North Atlantic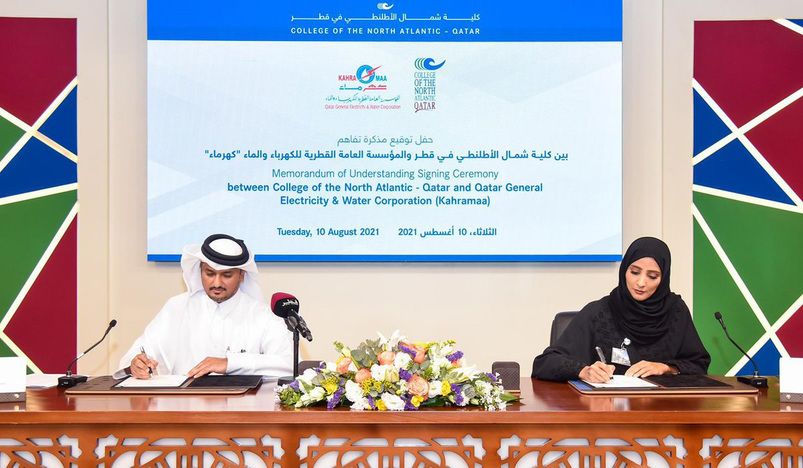 Kahramaa signed a memorandum of understanding with College of the North Atlantic Qatar
QNA
Qatar General Electricity & Water Corporation (Kahramaa) signed a memorandum of understanding (MoU) with College of the North Atlantic Qatar (CNA-Q), aiming at enhancing means of cooperation in the fields of education, training and development.
The MoU was signed by Eng. Abdulla Mohsin Al Wahedi, Kahramaa's General Services Department Manager, and Dr. Aljazzi Fetais Associate Vice President, Student Affairs at CNA-Q.
The importance of the MoU lies in cooperation in order to achieve common goals between the two parties in the implementation of joint projects, research and exchange of experiences. It also supports the integrated approach related to innovation and development processes.
It will also provide the students at CNA-Q with important opportunities for training at Kahramaa facilities. It will work on developing plans to improve the means of professional development and training of employees mutually between the two parties, to include joint awareness campaigns in the field of water and energy rationalization to raise public awareness of the importance of energy efficiency.
On this occasion, Eng. Essa bin Hilal AL Kuwari, President of Kahramaa praised this MoU, expressing his hope that it will be of mutual benefit to both parties. areas of cooperation, adding that Kahramaa have spared no effort to search for new partnerships to diversify and expand areas of cooperation, and always looking for new opportunities to develop staff's skills.
For his part, Dr. Salem Al Naemi President CNA-Q expressed his pleasure to cooperate with Kahramaa, saying that this institution has an active role in the electricity and water sector in Qatar, and there is no doubt that signing this agreement will benefit both sides. Through such initiatives, CNA-Q is working to provide new opportunities for its students and professors that contribute to enriching their educational experience, Al Naemi said.
In turn, Eng. Al Wahidi affirmed his support for all cooperation initiatives between Kahramaa and other national authorities, saying that the partnership in the resources of the homeland must be translated into a partnership in work, achievement and responsibility, and there is no doubt that the basis for achieving all the goals lies in joint work to exchange experience and achieve the maximum benefit from existing gains to all parties.
Dr. Aljazzi stressed the importance of cooperation, which constitutes a major basis for development and growth, noting that this MoU will contribute to supporting the initiatives that CNA-Q and Kahramaa will jointly undertake and will be a basis for development and success.