Qatar Football Association Begins School Tour to Support National Team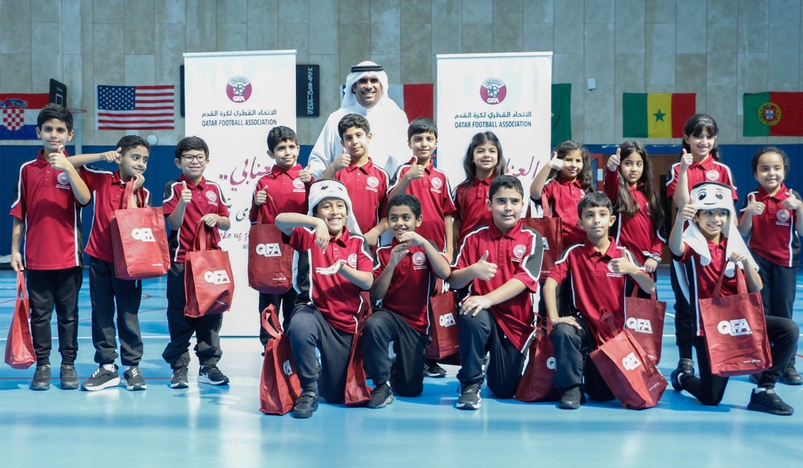 School Tour
The Qatar Football Association (QFA) has kicked off its promotional campaign to support the national team in the build-up to their FIFA World Cup Qatar 2022 debut.
Working under the slogan "In love with Qatar" and "Al Annabi is stronger with your encouragement," QFA officials have planned to visit many Qatari schools, namely: Tariq bin Ziyad schools Special, Al-Bayan Al-Oula Elementary School for Girls, Zakrit Primary School for Girls, Abu Hanifa Model for Boys, Saad Bin Muadh Elementary for Boys, Al Manar Model for Boys, Othman Bin Affan Model for Boys, Al Khor Model for Boys and Al Khor Primary for Girls The campaign, which includes visiting two schools every week, aims to communicate with schools, enhance cooperation between the Federation and educational institutions, and invite school students to attend the national team matches in the FIFA World Cup Qatar 2022. It will also include festivals and various performances of students' creativity, and distinguished activities to support and support elected.
The Director of Marketing and Communications Department of the Qatar Football Association, Khaled Mubarak Al Kuwari, confirmed in a statement today that the school visits were launched in coordination with the Ministry of Education and Higher Education, and come within the framework of the marketing and promotional plan carried out by the Qatar Football Association to support the team, where school students are considered as an essential part of the federation marketing strategy, which aims to create a generation that loves football and the national team.
Al Kuwari noted that "There is no doubt that the activities, events, permanent cooperation between the QFA and schools, and our continuous communication with the educational sector comes within the framework of the QFAs vision regarding its social responsibility program. We want to engage all members of communities living in Qatar since the visit this time coincides with the approaching date of the start of the FIFA World Cup, in which our national team will play against the teams of Holland, Senegal and Ecuador in Group A." He added that "The Qatar Football Association has close relations with the educational sector, which has been going on for years. We have run several programs, the most prominent of which is the "Friends of the Federation in Schools" program, which confirms the depth of the distinguished relations that link the federation to the educational system in the country."
(QNA)