Qatar Duty Free bags 12 awards at 2023 FAB Awards in Thailand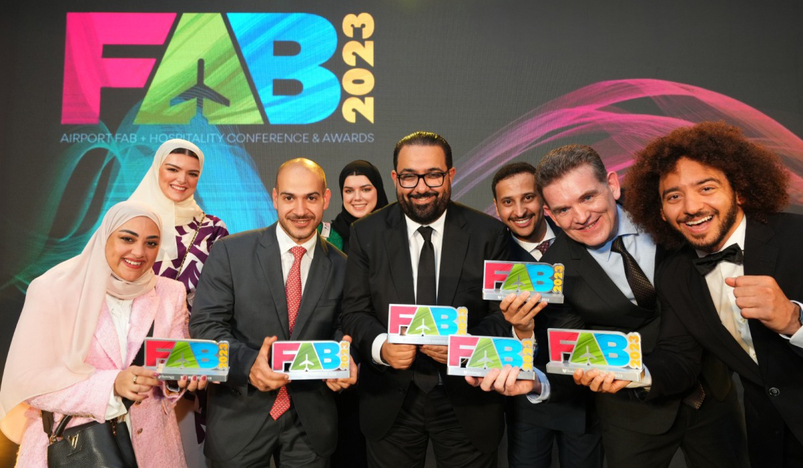 QDF
Qatar Duty Free (QDF), owner and operator of all catering outlets at Hamad International Airport in Doha, enjoyed great success at the 2023 edition of the Food & Beverage (FAB) Awards in Bangkok, Thailand. 
The prestigious awards ceremony, organised and hosted by acclaimed international publisher, The Moodie Davitt Report, saw Qatar Duty Free Senior Vice President, Thabet Musleh and the QDF team collect a total of 12 awards. 
This impressive haul serves as fitting recognition for the innovation, investment and pioneering standards demonstrated by the Qatar Airways Group subsidiary and the award-winning Hamad International Airport.
An independent panel of seven expert judges spanning the prestige culinary, hospitality and aviation sectors voted Qatar Duty Free best-in-class for:
•    Airport Food and Beverage Offer of the Year (Worldwide) - Qatar Duty Free
•    New Food and Beverage Opening of the Year (Worldwide) – Louis Vuitton Lounge by Yannick Alleno
•    Airport Lounge of the Year (Worldwide) - Louis Vuitton Lounge by Yannick Alleno
•    Airport Lounge, Food and Beverage Offering of the Year (Worldwide) - Louis Vuitton Lounge by Yannick Alleno
•    Airport Restaurant Design of the Year (Worldwide) - Fendi Caffe
•    Airport Chef of the Year (Worldwide) - Chef David Sosson
•    Airport Food Hall of the Year (Middle East & Africa) - Qatar Duty Free
•    Airport F&B Offer Best Representing Sense of Place (Middle East & Africa) - Chapati & Karak
•    Food to Go Offer of the Year (Middle East & Africa) - Oreo Café
•    Airport Coffee or Tea Shop of the Year (Middle East & Africa) - Ralph's Coffee
QDF was also highly commended for:
•    New Food and Beverage Opening of the Year (Worldwide) - Fendi Caffe
•    Airport Coffee or Tea Shop of the Year (Worldwide) - Ralph's Coffee
Badr Al Meer, Hamad International Airport Chief Operating Officer, commented: 
"Qatar Airways Group maintains the ambition to set a new global standard in everything we do. Our airline, airport lounges, duty free shopping and general airport operations at Hamad International Airport have a strong track-record of excellence and continue to receive frequent major honors. With this impressive recognition at the 2023 FAB Awards, Qatar Duty Free, in partnership with Hamad International Airport, can justifiably claim to be the world's best food and beverage operator in an airport. Restaurants, food courts and cafes are a key service for our passengers, and we have invested heavily in upgrading existing outlets and with a flurry of new openings in the new airport expansion prior to the FIFA World Cup in Qatar. We have over 1700 passionate and talented catering staff, including more than 340 chefs, who work around the clock to serve over 6 million delicious meals a year. This is true Qatari hospitality for the world to savor and enjoy." 
Thabet Musleh, Qatar Duty Free Senior Vice President, added: 
"Team QDF's work ethic, collaborative spirit, passion and shared vision have turned ambitious goals into tangible realities, setting a new standard for excellence. Our success at the 2023 FAB Awards last night is a testament to our unparalleled ambition and quality of execution, while keeping our focus on sustainability. We extend our heartfelt gratitude to every member of the Qatar Duty Free community - which includes the thousands of customers that pass through our doors every day - for their unwavering support. It has been pivotal in achieving these unprecedented milestones, and we are incredibly proud that Qatar Duty Free has received these honors among such high-quality global competition."