Qatar Defeats Saudi Arabia, Wins Title of GCC Men's U18 Basketball Championship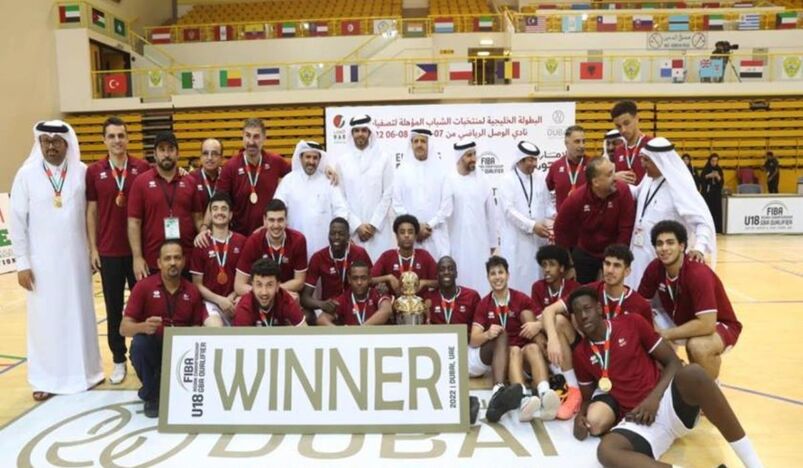 Image Source: QNA
The Qatari team won the GCC Mens U18 Basketball Championship, which was hosted by the United Arab Emirates at Al Wasl Sports Club in Dubai, after defeating its Saudi counterpart (75-51) in the final match.
Indeed, both teams showed strong performances, however it was the Qatari team who dominated the decisive moments of the first half, and after having increased the difference between both teams scores, the Qatari team entered the second half with ease, and only had to maintain this difference throughout in order to achieve victory.
Moreover, Qatars players starred in counter attacks and three-pointers, with more than one player getting under the spot light due to their impressive playing, especially in crucial moments through which the team maintained a comfortable lead of points, such as Mohammed Hashem, Hamad Yassin and Mohammed Nadu, who competed for the title of best player in the match, but with the title going to Sultan Abu Issa instead, who excelled in attacks, scoring 12 points, as well as in defense thwarting several attacks, achieving the best in follow-up.
The Qatari team deservedly won the championship after winning all seven matches it played throughout the tournament. In the group stage, it won five consecutive victories over Kuwait (64-51) in the first round, and the UAE (61-45) in the second round, Bahrain (63 - 47) in the third round, Saudi Arabia (79 - 55) in the fourth round, and Oman (82 - 32) in the fifth and final round.
Moreover, Qatar qualified for the semi-finals after taking first place in the general standings of the group, to face off Bahrain, who finished fourth in the group. However the Qatari team continued its conquest achieving victory over Bahrain with a score of (85-48), to finally qualified for the final match.
In the match to determine the third place, the Bahraini team managed to beat its Kuwaiti counterpart (55-45), by 10 points.
It is noteworthy that the teams of Qatar and Saudi Arabia won the two qualifying cards for the GCC Championship to the finals of the FIBA U18 Asian Championship, which will be held in Iran at the end of this month, after qualifying for the final match in the GCC Championship.
Source: QNA