Qatar-Cuba Business Forum Reviews Boosting Mutual Investments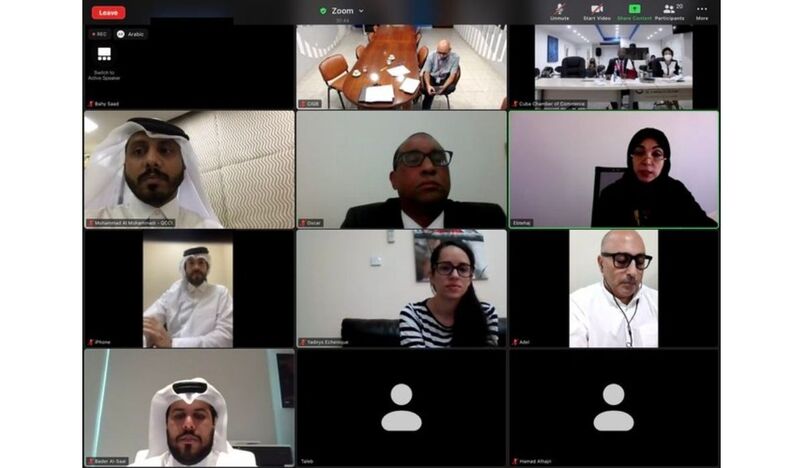 Qatar-Cuba Business Forum Reviews Boosting Mutual Investments
The Qatar-Cuba Business Forum was held virtually on Tuesday in the presence of Vice President of Cuba Chamber of Commerce Ruben Ramos Arrieta, HE Ambassador of Cuba to the State of Qatar Oscar Leon Gonzalez and a number of business owners and representatives of companies in the health, agriculture and food sectors.
Qatar Chambers Board Member and Chairperson of Health Committee Ibtihaj Al Ahmadani said that the private sector in the State of Qatar and the Republic of Cuba are looking forward to broadening their cooperation, forging joint projects, and taking their commercial cooperation to higher levels.
Al Ahmadani also stressed the need to develop the commercial and economic relations between the Qatari private sector and its Cuban counterpart in light of the huge potential owned by both countries.
She referred to the visit of HH the Amir Sheikh Tamim bin Hamad Al-Thani to Cuba in 2015 which represented a landmark in the march of both countries relationship, noting that it concluded with the signature of many agreements in various fields.
She pointed out that Qatar has successfully dealt with the economic impacts resulted by the coronavirus pandemic, adding that it also has issued an array of legislation and laws with the aim to streamline doing businesses in the country.
Terming the Qatari market as promising and open before foreign investments, Al Ahmadani invited Cuban companies to invest in Qatar and benefit from the opportunities available in all sectors. She also emphasized the Chambers concern to encourage Qatari investors to invest in Cuba and explore the opportunities galore there, especially in the light of the Qatars economic diversification strategy that stimulates establishing external investments in friendly countries.
For his part, Vice President of Cuban Chamber of Commerce Ruben Ramos Arrieta lauded the distinguished relations between Qatar and Cuba, stressing the role than can be performed by the private sector in underpinning their commercial cooperation.
"Cuba Chamber highly welcomes Qatari investments and is ready to help investors willing to set up projects in Cuba," he assured, inviting the Qatari side to participate in Havana International Fair that will be held early next year.
HE Ambassador of Cuba to the State of Qatar Oscar Leon Gonzalez praised the fast-growing relations between both countries, noting that the Cuban Hospital in Dukhan is a fruit of the successful collaboration between the two countries.
HE assured that there is a wide range of fields in which companies from both countries can cooperate in such as tourism, education, health, pharmaceuticals, and others.
For his part, Senior Analyst at Qatar Free Zone Authority (QFZA) Bader Yusuf Al Sai delivered a presentation on the investment incentives offered by QFZA in Ras Bu Fontas, Msheireb and Umm Al Houl zones, noting that the free zones managed to attract major international brands and companies.
In turn, the Cuban side gave a presentation on the Cuban investment environment, business climate, economic laws and incentives offered by the Cuban free zones. The presentation also touched on the launch of about 503 foreign investment projects in Cuba during the current year in areas such as construction, tourism, energy, and food production, as well as other fields. (QNA)