Qatar Creates Reveals New Format Ahead of FIFA World Cup Qatar 2022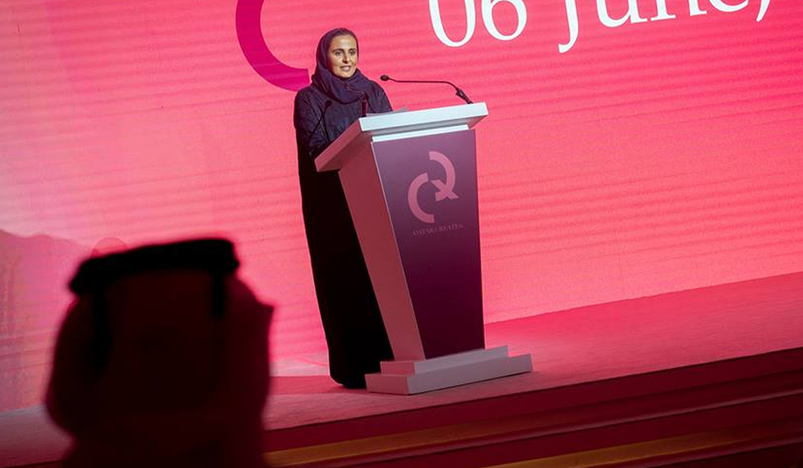 Qatar Creates Reveals New Format Ahead of FIFA World Cup Qatar 2022
Chairperson of Qatar Museums and the Doha Film Institute and co-chair of Fashion Trust Arabia HE Al Mayassa bint Hamad Al-Thani announced today the launch of the new format of Qatar Creates and offered an overview of the cultural events that the State of Qatar will organize in the fall of 2022 to mark Qatar's hosting of the FIFA World Cup Qatar 2022.
Qatar Creates will now be the all-embracing vehicle that curates, promotes, and celebrates the diversity of cultural activities in Qatar, with an unprecedented schedule of high-profile events, exhibitions, live shows, and openings, all geared toward the start of the FIFA World Cup Qatar 2022, and beyond.
Her Excellency Sheikha Al Mayassa said, "As the countdown intensifies toward the opening of the World Cup, we are delighted to share a picture of autumn 2022 in Doha, when the calendar will be overflowing with museum exhibitions, premier fashion events, spectacular music and theater experiences, and eye-opening previews of the exciting cultural future that Qatar is building today." Her Excellency added that "one Pass is a gateway to arts and culture for all of our residents and visitors to access to museums, events, festivals, theatrical experiences, and cultural offerings across the country, along with benefits for dining, entertainment, adventure, and fashion. By bringing this all together with the One Pass, our hope is that everyone will have the opportunity to live it all, to experience the very best our country has to offer, turning visitors into ambassadors who will share their experiences and want to return to Qatar again and again." Executive General Manager of Qatar Creates Saad Saleh Al Hudaifi said that the events programme will include organizing 17 exhibitions in five museums and five creative hubs, in addition to 10 high-level events and three live art festivals, as well as establishing 15 galleries and setting up more than 80 different artworks across the country. He said that the first event will take place of June 6. He also said that Sept. 12 will see the launch of a number of events to mark the fact that 70 days will remain at that point from the start of the FIFA World Cup Qatar 2022.
He also said that they will announce a fashion show from Sept. 26-30. He also highlighted that October will see the inauguration of a football exhibition at the 3-2-1 Qatar Olympic and Sports Museum, in addition to reopening the Museum of Islamic Art with an exhibition on Afghanistan from Oct. 2 to 6.
Speaking to Qatar News Agency (QNA) on One Pass, he said that four One Pass categories will launch on July 4. He noted that three of them will target individuals, with the fourth dedicated to organization. The pass will enable its holders to enter all exhibitions and museums for free.
The Executive General Manager of Qatar Creates stressed that 2022 was an extraordinary year for Qatar. He highlighted that the country will cooperate with 27 countries during its 2022 cultural year to hold exhibitions and participate in the World Cup, saying all communities residing in Qatar are welcome to participate in different events. 
Source: QNA