Qatar Charity Implements Udhiyah Drive in 33 Countries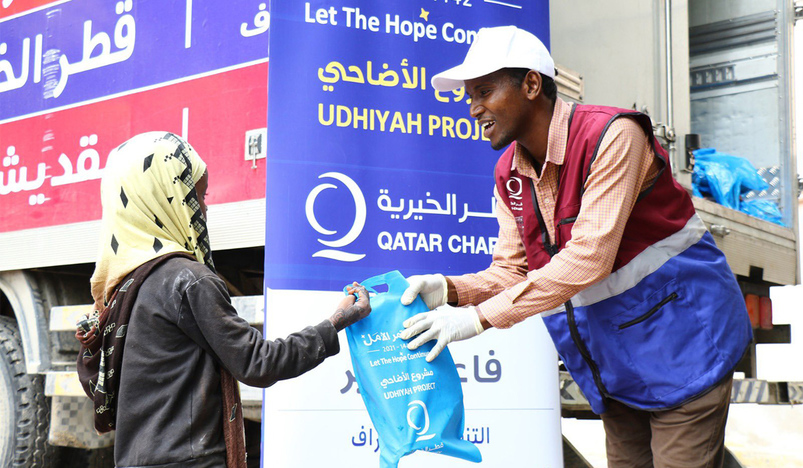 Qatar Charity
QNA
Qatar Charity (QC) has successfully implemented the 2021-Udhiyah drive under the theme Delight them with your sacrifice, Let the hope continue, benefiting 936,980 people in 33 countries, including Qatar.
The Udhiyah project was implemented this year in cooperation with the Widam Food Company in three countries, which are Qatar, Sudan and Kenya.
The Udhiyah project, implemented during the Eid Al-Adha, contributed to better meeting the nutritional needs of poor families, internally displaced people (IDPs), refugees, and those affected by the coronavirus pandemic, and sharing the joy of Eid with them. The meats of 49,524 sacrificed sheep and cows, valued at 27.5 million Qatari riyals, were distributed.
Local authorities in many countries, where the project was implemented, commended Qatar Charity for its cooperation with them to reach the eligible people, thanking the Qatari leadership, the government and the people of Qatar for their humanitarian role in helping others and alleviating the suffering of those in need.
Qatar Charity noted that the project was implemented in many Turkish Provinces in cooperation and coordination with their municipal administration, focusing on poor Syrian refugee families and Turkish households with limited income.
In Northern Syria, Qatar Charity distributed sacrificial meats to those living in several camps located in the countryside of Aleppo, benefiting hundreds of displaced Syrian families.
In Palestine, Qatar Charity, through its two offices in Gaza Strip and the West Bank in Palestine, distributed sacrificial meat in several governorates and villages in cooperation with the Palestinian Ministry of Awqaf, targeting the poor, the needy, orphans and their families, persons with special needs and students sponsored by Qatar Charity.
In Sudan, Qatar Charity implemented the project in several states of Sudan in cooperation with the Widam Food Company and under the supervision of Qatar Charitys field teams. The project targeted those sponsored by Qatar Charity, in addition to poor families.
In Somalia, Qatar Charity distributed sacrificial meat in many cities of the different regions, targeting needy families, orphans and the displaced living in the camps.
In Bangladesh, Qatar Charity distributed sacrificial meat to the poor, widows, and orphans, in the presence of the local governments representatives, who hailed Qatar Charitys Udhiyah project.
This year, Qatar Charity implemented the Udhiyah project in Qatar, Palestine, Somalia, Tunisia, Lebanon, Sudan, Kenya, Mali, Togo, Nepal, India, Bangladesh, Benin, Nigeria, Burkina Faso, Pakistan, Kyrgyzstan, Kosovo, the Philippines, Albania, Bosnia and Herzegovina, Ghana, Turkey, Jordon, Ethiopia, Senegal, Gambia, Chad, Yemen, Montenegro, Ivory Coast, South Africa, and Morocco.