Qatar Charity distributed 1,500 food packages to IDPs in Somalia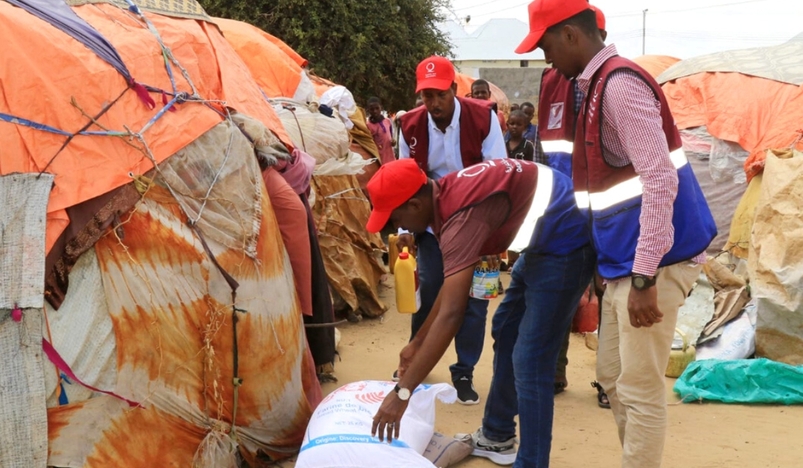 Qatar Charity distributed 1,500 food packages to IDPs in Somalia
Qatar Charity (QC) distributed 1,500 food packages to internally displaced persons (IDPs) in various camps in Daynile and Garasbale on the outskirts of Somalia's capital Mogadishu. The aid benefited 10,872 people.
The aid is part of the continued assistance provided under the 'Somalia Hunger Appeal' campaign launched by Qatar Charity to alleviate the suffering of those affected by drought in the country.
Mr. Mohamed Abukar Ali, Deputy Director of the Daynile district, praised the role and keenness of Qatar Charity to reach the most affected and needy areas, at a time when 7.7 million Somali people need humanitarian aid, indicating his readiness to facilitate logistical support to deliver humanitarian aid to the needy.
The beneficiaries expressed their gratitude and appreciation to the philanthropists in Qatar for providing aid to them. Arbay Tiru, a female beneficiary in her seventies, thanked the people of Qatar for providing the food package that is sufficient for her family for a whole month, noting that the drought destroyed her farms, killed her cows, and displaced her family from their hometown. 
In November last year, Qatar Charity distributed nearly 5,000 food packages to the IDPs and those affected by the floods in Mogadishu, Baidoa, Gedo, and Lower Juba, benefiting 1,200 families (approximately 7,200 persons). 
Source: Qatar Charity