Qatar calls for more efforts to promote equal access and distribution of Covid-19 vaccines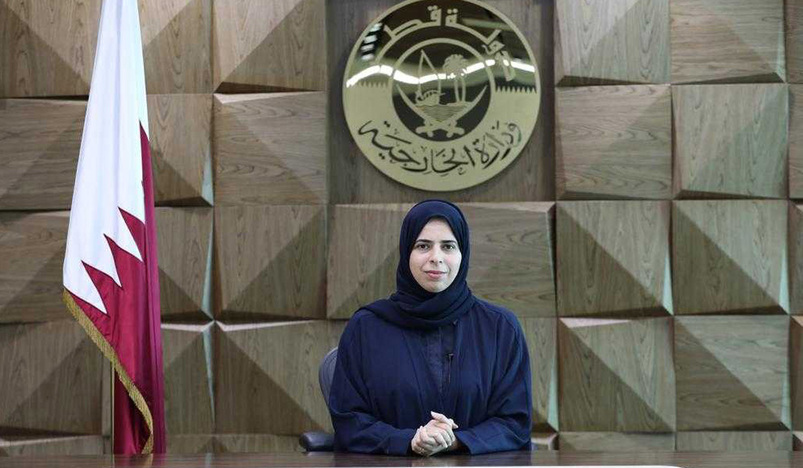 HE Lolwah bint Rashid Al Khater
The State of Qatar stressed that the Coronavirus (Covid-19) pandemic represented the greatest health challenge facing humanity for decades, and that there is still a need to make more efforts to promote equality in the availability of vaccines and ensure its fair and equitable distribution to all countries.
Qatar stressed also the need to draw lessons from this pandemic and the early and effective coordination of future response efforts to any similar health pandemic.
This came in the statement of the State of Qatar delivered by Assistant Foreign Minister HE Lolwah bint Rashid Al Khater, before the high-level virtual summit on COVAX and the advanced market commitment mechanism, organized by Germany, Indonesia and Senegal, in partnership with Gavi, The Vaccine Alliance.
Her Excellency stressed that the State of Qatar has realized since the beginning of the spread of the (Covid-19) pandemic that addressing it requires collective international action within the framework of joint responsibility.
Her Excellency added, that based on its moral and humanitarian duty, the State of Qatar has sought, since the beginning of the crisis, to mitigate its effects by providing various types of aid that have benefited more than 80 countries.
HE Assistant Foreign Minister indicated that the State of Qatar has supported efforts related to fair and equal access to vaccines for all in an accessible and equitable manner without any discrimination, and has provided support to Gavi, The Vaccine Alliance and the COVAX mechanism with an amount of USD 20 million.
Her Excellency noted that Qatar Airways also played an important and vital role in transporting COVID-19 vaccines and other vital supplies to affected regions and communities around the world.
Her Excellency also referred to Qatar Red Crescent initiative in cooperation with the World Health Organization, which aims to provide Covid-19 vaccines to refugees, displaced people and migrants around the world, which was launched in April 2021 and will last for three years.
HE Assistant Foreign Minister stressed that global health security is a collective and international joint action that requires solidarity and synergy to combat health challenges that threaten everyone, calling to work together for one protected world in which no one is left behind.