Qatar Automobiles Company introduces special Ramadan offer on the FUSO Canter and Rosa Buses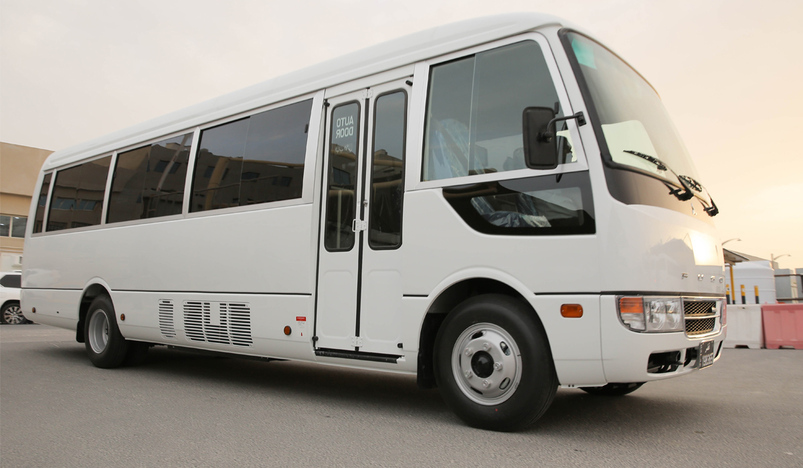 Rosa Bus
Qatar Automobiles Company, the authorized distributor of FUSO in Qatar, presents a special Ramadan offer on the Japanese FUSO Canter trucks of single or double cabins and Rosa Bus.
Valid on until 30 April, the offer includes a special price and monthly instalments along with a package of benefits including free registration for the first year, 5-year ex or 200,000 km extended warranty (whichever comes first), and trade-in option. In addition, in-house finance is available through NBK Financial services.
FUSO brand is known for its trusted quality, economic efficiency, solid & functional design and committed services. The Japanese leading brand highly invests in technology and continuous development of its vehicles to meet the rapid changing requirements of individuals and corporate.
FUSO Canter
The refined cab design of the FUSO Japanese Canter truck range combines rugged strength with meticulous attention to detail. The Spacious cabin is loaded with features, and it is equipped with a clean, powerful, fuel-efficient engine along with outstanding safety features and solid reliability. Its body type variations meet every business need and secure smooth driving, and easy to load and unload. The new Canter Euro 5 truck range offers a variety of cabin and wheelbase options to suit for every need of goods transportation.
The FUSO Japanese Canter Euro 5 truck range has a lightweight, durable aluminium body, which is ideal for a wide range of jobs, safe and reliable deliveries regardless of the weather. The other option with a flat body is ideal for ease of loading and unloading, delivery and construction.
The engine has more efficiency, cost-effectiveness, and environmental acceptability. The Canter sets a new EURO 5 engine in 2 performance levels 96kw and 110kw with the advanced exhaust emission control system.
In terms of safety, the FUSO Japanese Canter Euro 5 truck range is equipped with a rugged safety Cab. The crossbeams strengthen the cab floor, while safety beams have also been added to the doors. The result is a tough, rugged cab that protects drivers and passengers in the event of a collision. Airbags for driver and front-seat
FUSO Rosa bus
The Fuso buses, the only 26 seaters available in Qatar, are known for their trusted quality, economic efficiency, solid & functional design and committed services.  The 26-seater Rosa bus is distinguished with its durability and reliability, while remaining affordable in a competitive market. The FUSO buses are perfectly suited to meet the demands and requirements of various sectors, and provide services for passenger and staff transport, commercial operations and other kinds of business.
Forward position of passenger entrance door makes it easier for driver to see passengers entering/exiting the bus, while large bonded passenger windows are ideal for unobstructed view. The Fuso Rosa is a Japanese bus manufactured by Fuso Truck and Bus Corporation. The bus is perfect for all kinds of transportation including entertainment trips, school transportation, staff, VIP transport.
The Rosa is equipped with high performance 4.2 liter 4-cylinder Diesel engine and independent front suspension. Its Dual caliper front disc brakes maximize the safety of the bus while moving and stopping.
The FUSO Canter and Rosa buses are available at FUSO showroom on Salwa Road and in Alkhor.