Qatar Athletes Win Title of West Asia Athletics Championships for Men and Women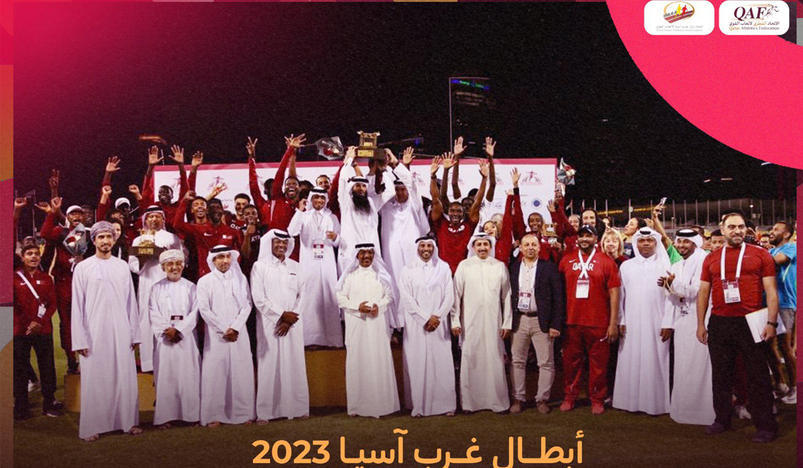 Qatar Athletes
The Qatar athletics team won first place and the title of the West Asia Athletics Championships for men and women (Qatar 2023), by reaching a total of 28 colored medals by the end of the tournament, which kicked off on April 26, and concluded this evening on the field and track of Suheim Bin Hamad Stadium, Qatar Sports Club, with the participation of 12 countries from West Asia.
The Qatari team excelled on the closing day by winning ten colored medals: 4 gold, 3 silver, and 3 bronze medals.
The gold medals were won by Ahmad Al Saifi in the hammer throw competition, runner Femi Ogunode in the 200m race, and runner Abdulrahman Saeed in the 1500m race.
The silver medals were achieved by runner Musab Adam in the 1500m race, and runner Yaser Salem in the 5000m race, in addition to a silver medal won by the women's 4x400m relay team.
As for the bronze medals, they were obtained thanks to Khalil Badawi in the hammer throw competition, the men's 4x100m relay team, and Samar Al Mansoori in the heptathlon competition.
The Qatari team raised its medal tally to 28 colored medals: 13 gold, 8 silver, and 7 bronze, securing first place in overall standings.
The former Qatari runner and Assistant Secretary-General of the Qatar Athletics Federation Talal Mansour said in an exclusive statement to Qatar News Agency (QNA) that the impressive performance in the West Asian Athletics Champions calls for optimism for the future of Asian athletics which will give the world some fine talents, noting that the numerous talents in the region will find their way to the international stage and compete globally.
Mansour stressed the importance of benefiting technically from West Asia's rich record in athletics towards a future full of achievements, noting that training and camps benefit athletes, yet participation in tournaments strengthens their capabilities and raises their performance.
(QNA)