Qatar and Algeria Sign MoU on Investment in Steel Industry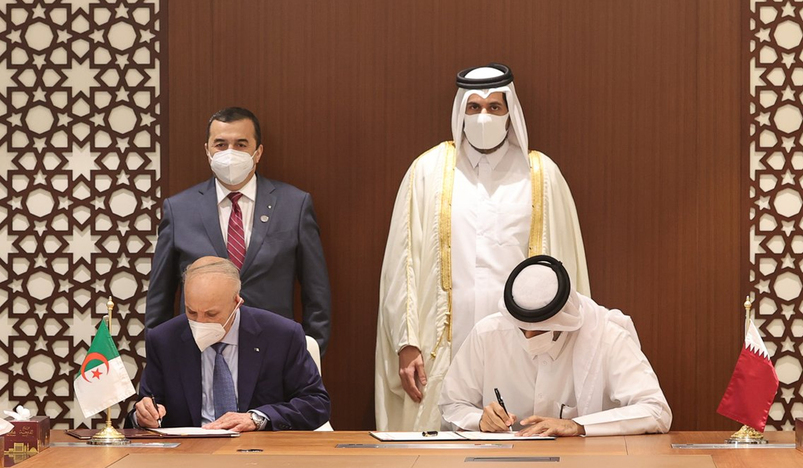 Image: QNA
A Memorandum of Understanding (MoU), pertaining to investment opportunities in the steel industry, was signed in Doha today between the State of Qatar and the Peoples Democratic Republic of Algeria.
The MoU was signed in the presence of HE the Minister of Commerce and Industry Sheikh Mohammed bin Hamad bin Qassim Al-Thani and HE the Algerian Minister of Trade and Export Promotion Kamal Raziq, who is currently visiting Qatar as member of the delegation accompanying HE the Algerian President Abdelmadjid Tebboune.
The MoU seeks to study the feasibility of expanding the plant of the Algerian Steel Company in the "Bellara" industrial area in Algeria to improve its capacity to 4 million tons.
The Memorandum was signed for the Qatari side by Chairman of the Board of Directors of Qatar Mining Company (QM) Khalid bin Ahmed Al Obaidli, and for the Algerian side by HE Ambassador of the People's Democratic Republic of Algeria to Qatar Dr. Mustafa Boutoura.
In this regard, HE Sheikh Mohammed bin Hamad bin Qassim Al-Thani stressed the importance of the MoU, noting that it reflects the common desire of the two brotherly countries to deepen and consolidate cooperation in various fields, especially in the fields of investment and partnership by completing joint work in the field of steel industry.
HE the Minister stressed that this step would open up wider horizons for cooperation in many other fields, especially in the commercial and industrial sectors, noting that the two countries' keenness to upgrade bilateral cooperation frameworks would allow Qatari and Algerian investors to consolidate bridges of communication and establish successful investment projects that serve the interests of both countries.
The MoU comes within the framework of the two countries' aspiration to develop the iron and steel industry within the framework of an industrial and commercial partnership, to meet the huge needs of the Algerian market and to export the surplus.
The Algerian-Qatari Steel Company is a joint venture between the two sides, with 49 percent owned by the Qatari side and 51 percent by the Algerian side, and it aims to produce iron and steel. 
Source: QNA