Qatar Airways Touches Down in Santorini, Greece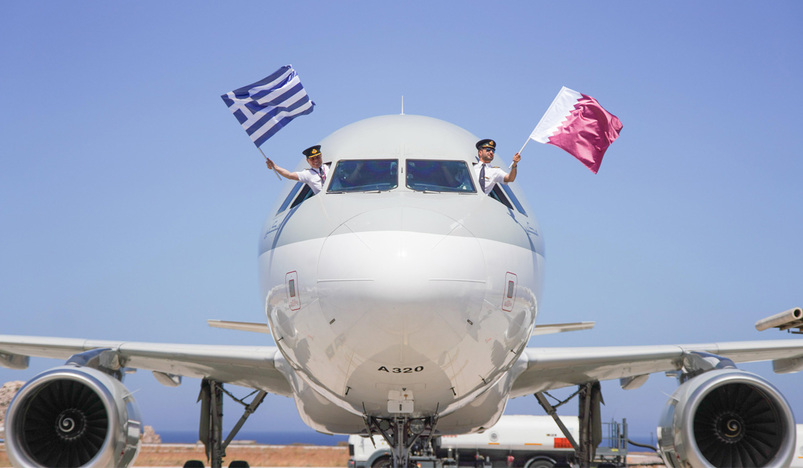 Qatar Airways
Qatar Airways (QA) is making it easier for customers to enjoy the Greek Isles with the launch of its new service to Santorini (JTR), and the resumption of flights to Mykonos (JMK).
In its statement release today, QA said that the first flight from Doha to Santorini on Tuesday, June 7, was operated by an A320 aircraft, featuring 12 seats in Business Class and 132 seats in Economy Class, and was welcomed by Senior Executives from Fraport Greece as the aircraft landed at Santorini International Airport for the first time.
The island destination joins Athens and Mykonos to become the third Greek gateway to be served by the national carrier of the State of Qatar.
HE QA Group Chief Executive Akbar Al Baker said, "The Greek Isles are a leading tourist destination and an important market for Qatar Airways. There is high interest from across our network for flights to Santorini, specifically in the leisure segment. We are committed to offering our passengers as many seamless one-stop connection choices as possible." For his part, CEO of Fraport Greece Alexander Zinell said, "We feel honored that Qatar Airways' has included Santorini in its network and expanding its presence at the Fraport Greece operated airports." "Qatar Airways now makes Santorini accessible from numerous new markets via its Doha hub. The travel experience has been further upgraded as our brand-new Santorini Airport Terminal is now completed. We will continue to work with Qatar Airways and partners offering highly efficient airport operations and passenger experience worthy of the Santorini brand name," Zinell added.
Seasonal flights to Mykonos resumed on June 3 with four weekly flights, and flights to Athens have increased to a double daily service, offering greater choice for business and leisure passengers alike.
(QNA)