Qatar Airways Achieves Net Profit of QR 4.4 Billion During Fiscal Season 2022-2023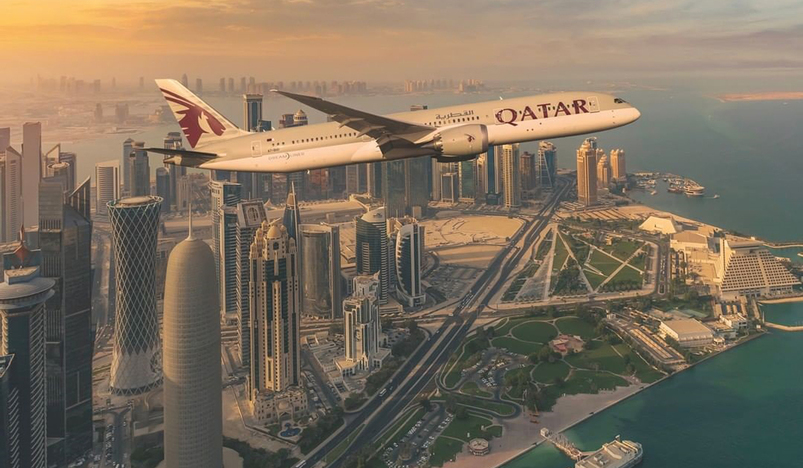 Qatar Airways
Qatar Airways Group has again reported a strong financial performance as the Official Airline of the FIFA World Cup Qatar 2022 publishes its annual report for 2022/23. The airline credits the positive results to its successful strategy during an extraordinary year for the Group as FIFA's Official Partner and Official Airline of the FIFA World Cup Qatar 2022 along with its premium product focused on delivering world-class customer experience as well as the commitment of its worldwide employees.
Qatar Airways Group reported a net profit of QR4.4 billion (US$ 1.21 billion) during the fiscal year 2022/23. Overall revenue increased to QR76.3 billion (US$ 21.0 billion), up 45 percent compared to last year. 
Passenger revenue increased by 100 percent over last year, on a capacity increase of 31 percent driven by nine percent higher yields and a load factor of 80 percent – both highest in the airline's history, resulting in a sustainable increase in market share. Qatar Airways carried 31.7 million passengers, an increase of 71 percent over last year. The continued focus on customer experience, loyalty, digitalisation, and sustainability has placed Qatar Airways on a strong platform for the future.
Privilege Club, the Qatar Airways loyalty programme, also witnessed significant growth in numerous new global and local partnerships, and enhanced proposition and revenues supported by the adoption of Avios as its currency. Privilege Club members now have the ability to access Qatar Airways Group using the Avios currency for payment in Qatar Duty Free, Discover Qatar, and Qatar Holidays, in addition to the existing list of leading global brands.
Qatar Airways Cargo maintained its position as the world's leading air cargo carrier throughout the 2022/23 financial year, forging ahead with a strategic focus on growth, sustainability and digitalisation, and supporting the continuity of global trade despite ongoing market challenges.
The Group generated strong EBITDA Margin of 23 percent at QR17.8 billion (US$ 4.9 billion). EBITDA was higher than the previous year by QR110 million (US$ 30.2 million) due to streamlined, agile, and fit-for-purpose operations across all business areas. These positive earnings reflect the expansion of the Qatar Airways' passenger and cargo networks, and deliver on the commitment to build further customer and trade loyalty and product excellence combined with strong cost control.
As the national carrier of the State of Qatar, the FIFA World Cup Qatar 2022 proved to the world its agile response by transporting 1.4 million passengers to the hugely successful event on its network.
Qatar Airways network grew to more than 160 destinations in 2022/23. Qatar Airways resumed operations to 13 destinations namely Amritsar, India; Beijing, China; Denpasar, Indonesia; Geneva, Switzerland; London Gatwick, UK; Luxor, Egypt; Nagpur, India; Perth, Australia; Qassim, Saudi Arabia; Sarajevo, Bosnia and Herzegovina; Shanghai, China; Taif, Saudi Arabia; and Windhoek, Namibia. Moreover in 2022/23, the airline launched two new routes to Dusseldorf, Germany; and Santorini, Greece, providing more travel choices and greater connectivity for its passengers.
Minister of State for Energy and Qatar Airways Group Chairman, HE Saad Bin Sharida Al Kaabi said: 
"I am delighted to announce that Qatar Airways Group has demonstrated another remarkable annual performance. Qatar's transportation sector is an emblem of its interconnectivity, connecting people from around the world and increasing business connections throughout the region. Qatar is proud to have hosted fans from around the world during the FIFA World Cup Qatar 2022, delivering one of the best FIFA World Cups in history. Qatar has set an unparalleled benchmark for tournament security and safety, creating a family-friendly destination of choice."
Qatar Airways Group Chief Executive, HE Akbar Al Baker, said: 
"This year's strong financial results are attributed to the strong passenger demand recovery and the team's ability to cater to this demand, aided by our continuing network growth, market leadership, and the operational efficiencies delivered by our world beating team. Profitability has been driven by a 100 percent increase in passenger revenues in the last year."

"Load factors exceeding 80 percent, and the current yield levels are the highest in our history. As the global travel recovery from the COVID-19 pandemic continues, we have managed to retain the high levels of trust, reliability and confidence with our customers. As a result, we maintained our position as the airline of choice for millions of passengers worldwide and our team carried 31.7 million passengers, which is an increase of 71 per cent over last year."
As FIFA's Official Partner and Official Airline of the FIFA World Cup Qatar 2022, the Group upheld its commitment to unite people through the power of sport throughout the 2022/23 fiscal period. Over the period of the tournament, Qatar Airways operated some 14,000 flights bringing more than 2.4 million fans from all six continents to Qatar, to witness the greatest sporting show on Earth. Five billion fans engaged with the FIFA World Cup Qatar 2022 across the tournament delivering vast media return on investment to the Qatar Airways brand and more than 63 percent media return than the 2018 FIFA World Cup Russia. The social media engagement of the tournament increased followers by more than 83 percent.
Located conveniently within a six-hour flight from more than 80 percent of the world's population, Hamad International Airport (HIA) is ideal for business or leisure travellers. Hamad International Airport Phase B expansion started in January 2023, and will see airport capacity increase to 70 million passengers annually. At the 2023 Skytrax World Airport Awards, HIA was ranked the Second-Best Airport in the World and World Best Airport Shopping. Additionally, HIA was ranked Best Airport in the Middle East for the ninth time in a row.
Qatar Airways, the Official Airline Partner of Paris Saint-Germain since 2020, took its partnership to new heights in June 2022, as the new Official Jersey Partner for the star-studded French football champions in a multi-year partnership, starting from the 2022/23 season. In addition, Qatar Airways Group maintained partnerships with renowned global sporting clubs, including FC Bayern München, Al Sadd SC, Qatar National Football team, Brooklyn Nets, and the Sydney Swans. 
Qatar Airways Group has recently become the Global Airline Partner of the Formula 1 racing series. The five-year partnership will see the airline have brand presence at 21 races and become the title sponsor of two races per year in addition to the F1 Qatar Airways Grand Prix Qatar 2023. 
Additionally, Qatar Airways is now the official airline partner of the premier United Rugby Championship and European Professional Club Rugby competitions, connecting key travel markets across Western Europe and South Africa. The airline also entered into a partnership with club cricket giants, the Royal Challengers Bangalore, becoming the Indian Premier League team's official front of jersey partner.
Qatar Executive (QE), the VIP charter jet division of Qatar Airways, has also seen significant Year-Over- Year growth. This has been represented by a tremendous increase in commercial sales revenue and total live flying hours, fleet growth, improvements made to better serve passengers flying with QE, and a record number of arrivals and departures at the Doha International Airport QE Premium Terminal.
2022/23 was also a year truly like no other for Discover Qatar (DQ). Through meticulous planning and extensive preparation, the team enhanced its customer-centric focus to deliver excellence. Over the past 12 months, DQ delivered a multitude of logistical arrangements and tourist experiences before and during the hugely successful FIFA World Cup Qatar 2022, to a wide variety of visitors and customers including FIFA delegates, tour operators, commercial partners, sponsors, and football fans.