Qatar Aims to Increase Tourism GDP Contribution to 12%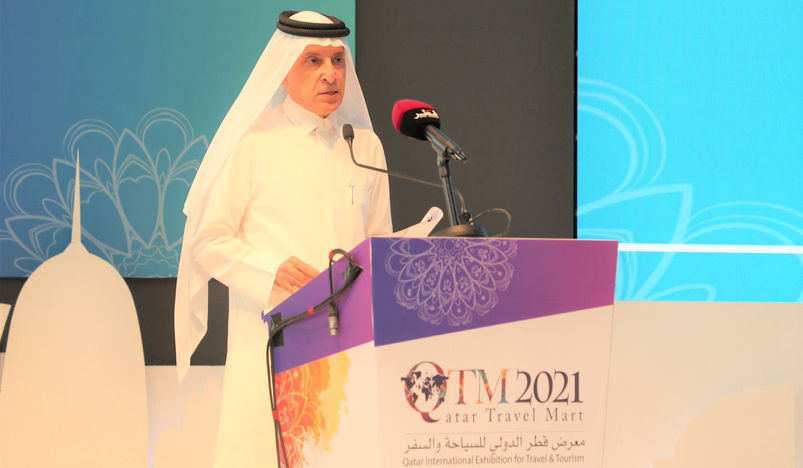 HE CEO of Qatar Airways Group Akbar Al Baker
The first edition of Qatar Travel Mart (QTM) 2021 took place today, with around 150 companies from 34 countries taking part.
HE CEO of Qatar Airways Group Akbar Al Baker said at a speech during the conference's opening ceremony that aim to attract over six million international visitors a year to increase travel and tourisms contribution to GDP to 12 percent.
HE Al Baker added Qatar National Vision 2030 sets out a roadmap for Qatar to become an advanced society capable of maintaining a high standard of living for its people. He stressed that tourism and travel is an important part of the future of the Qatari economy.
He noted that National Vision encapsulates the four pillars of human, social, economic, and environmental development. Tourism has immense potential to create a real positive impact across all these pillars, creating new jobs, growing GDP and diversifying our economy.
"From spectacular city skylines, to our burgeoning arts and culinary scene, and stunning desert landscapes, we have all the ingredients to become a world-leading tourism destination," he said.
He highlighted that Msheireb Design District is quickly becoming a regional hub of art, sustainability and creativity.
He also noted that as the one-year countdown to the FIFA World Cup 2022 approaches this Sunday, the spotlight will be on Qatar.
He also said that Qatar Travel Mart is the first exhibition of its kind in Qatar catering specifically to the travel and tourism industry.
"We are proud to invite the world back after such unprecedented times. We are thankful that our pandemic strategy and successful vaccination drive has allowed us to bring back events such as this," he said.
For his part Qatar Museums CEO Ahmad Musa Al Namla said that Qatar Museums is recognized as a gateway to Qatars cultural tourism as a distinguished institution for art and culture, dedicated to providing authentic cultural experiences through an expanding network of museums, heritage sites, festivals, programmes, and public arts.
During his speech, the CEO of Qatar Museums reviewed a host of museums in the country rich and diverse in their holdings, as well as archaeological sites rich in their history and heritage. He mentioned the Museum of Islamic Art, which sheds light on the country's history and Islamic heritage, as well as a great legacy that extends to about 1,400 years of Islamic history. He also discussed the interactive exhibits offered by the National Museum of Qatar and the Arab Museum of Modern Art, which is the first of its kind in the region. He also said that the 3-2-1 Qatar Olympic and Sports Museum is the world's most sophisticated sports museum. He added that it is scheduled to open soon. He highlighted that the upcoming museum will offer amazing experiences and interactive exhibits.
He also mentioned Qatar's pearling industry that can be explored at Al Zubarah, which was at one time the largest pearl harvesting and trading center in Qatar. Today, he added, it is a UNESCO World Heritage Site.
He highlighted that tourism in the 21st century moved towards experiencing arts, culture, and history. As a result, he added, museums became an important part of tourism today.
SOURCE: QNA