Qatar Affirms Importance of Protecting Journalists in Conflict Zones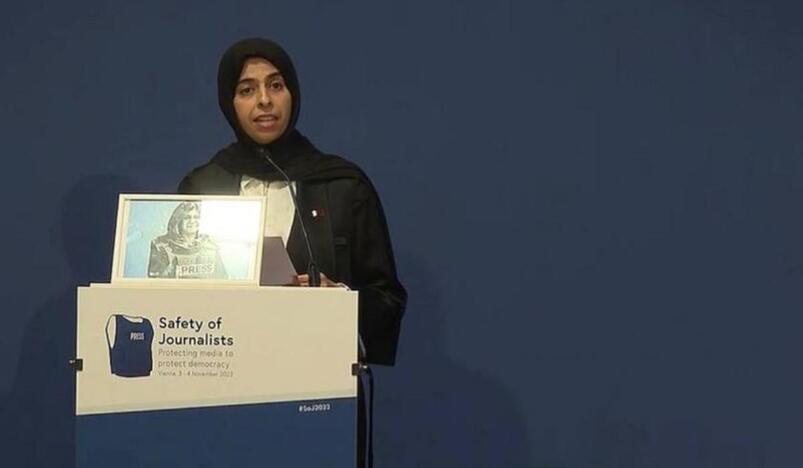 HE Assistant Foreign Minister Lolwah bint Rashid Al Khater
The State of Qatar affirmed the importance of protecting journalists in areas of conflicts and wars, noting that ensuring the safety of journalists is among its priorities and a prerequisite for realizing the right to freedom of expression.
Addressing the Safety of Journalists: Protecting Media to Protect Democracy High-Level Conference in Vienna, HE Assistant Foreign Minister Lolwah bint Rashid Al Khater pointed to a number of concrete measures adopted by the State of Qatar at the international and local levels, including its contribution to evacuating hundreds of journalists from Kabul during August 2021 events; hosting an international conference on the protection of journalists in 2012; and launching the international conference to protect journalists and the International Declaration on the Protection of Journalists in 2016.
The State of Qatar also sponsored the first UN Security Council resolution on the protection of journalists in situations of armed conflict, which was adopted under the Qatari presidency of the Council in 2006, Her Excellency added.
HE the Assistant Foreign Minister also referred to the United Nations Congress on Crime Prevention and Criminal Justice held in the State of Qatar in 2015 and adopted the Doha Declaration, in which heads of states and governments pledged to prevent and combat violence against journalists and media personnel.
"As we celebrate this year the 10th anniversary of the UN Plan of Action on the Safety of Journalists and the Issue of Impunity, we would like to affirm our full support for this plan, and welcome the progress and efforts made to ensure its implementation," Her Excellency said.
She added that journalists carry out a major role in promoting and protecting human rights. However, the Committee to Protect Journalists revealed that in the past decade alone, about 600 journalists and media personnel were killed and 250 others were imprisoned.
HE Lolwah bint Rashid Al Khater referred to the murder of Palestinian journalist Shireen Abu Akleh, stressing that protection and prevention methods are only effective when combined with prosecution mechanisms.
Her Excellency expressed deep concern at the persistence of impunity for violations and crimes committed against journalists, noting that Shireen Abu Akleh sacrificed her life for the inalienable right to know the truth.
Her Excellency strongly condemned the assassination of journalist Shireen Abu Akleh and reaffirmed that the failure of the Israeli occupation forces to admit their crime is an attempt to escape criminal responsibility. She called for an independent international investigation and accountability for those responsible for this heinous crime, stressing it as essential to achieve justice and prevent recurrence of such crimes.
HE Assistant Foreign Minister Lolwah bint Rashid Al Khater reiterated the need to ensure the protection of journalists, especially those working in conflict zones and to hold accountable those involved in the attacks against journalists without exception.
(QNA)