Qatar's stadium cooling technology set to provide major legacy benefits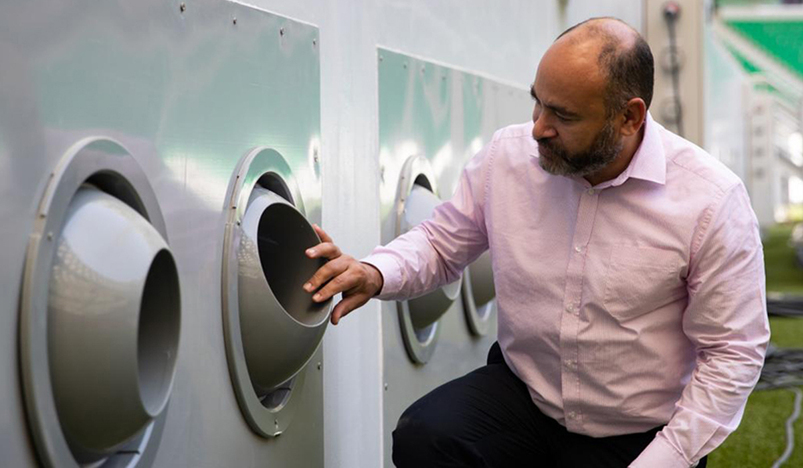 Qatar's stadium cooling technology
When Qatar unveiled its bid to host the FIFA World Cup 2022™, the country promised to provide innovative solutions for a range of challenges. One flagship promise was to develop cooling technology for football stadiums – in order to help countries host matches year-round.
In 2010, the Supreme Committee for Delivery & Legacy began collaborating with Qatar University (QU) to design and implement innovative cooling systems for its FIFA World Cup™ stadiums. The visionary behind the technology was Dr. Saud Abdulaziz Abdul Ghani, Professor of Mechanical Engineering at QU.
Qatar's FIFA World Cup™ will take place in November and December 2022 – when the average temperature will be 18-24°C, meaning the technology will assist to develop a pleasant thermal environment during the tournament. In addition, it will allow stadiums located in hot countries to host events throughout the year, providing comfort to athletes and spectators alike.
The technology is also unpatented – meaning anyone can benefit from its blueprint and adapt it accordingly without being charged.
"The cooling technology we have in Qatar is an open example for the rest of the world to learn from," said Dr. Saud. "I am very proud that this technology – which originated here – can be adapted by other countries and businesses."
The cooling systems implemented at seven of the eight Qatar 2022 stadiums are each unique – which presented challenges for Dr. Saud and his team.
"At each venue, we needed to cater for the players and spectators," said Dr. Saud. "The players need cooler air than the spectators, as they are running around. Our challenge at each venue was to provide the correct technology and temperature for different areas of the stadium."
The first cooling system was implemented at Khalifa International Stadium – an existing venue. Here, the technology needed to fit the stadium, while at Al Janoub – the first venue to be built from scratch – it was incorporated at the design phase. When it comes to Al Thumama Stadium, which will be inaugurated on 22 October when it hosts the Amir Cup Final between Al Rayyan and Al Sadd, the cooling technology system is advanced.
Dr. Saud said: "We have applied the lessons learned from all our previous projects. At Al Thumama, the cool air is closer to the spectators. Here, we cool the air under the seats and recycle and purify it inside the venue."
Dr. Saud continued: "Al Thumama also benefits from having a completely white exterior, thanks to its design replicating the gahfiya head cap, which reflects the sun and helps to keep the stadium cool."
Sustainability also lies at the heart of every cooling project – with each system designed to only cool specific areas at specific times. In addition, the energy used in Qatar 2022 stadiums comes directly from a solar panel farm located outside Doha, which was developed by QatarEnergy and Qatar Electricity & Water Company (QEWC).
And away from football, cooling technology is also being used in other venues across Qatar, such as a shopping plaza at Katara and a farm in Mikaynis, which grows fruit and vegetables for local consumers.
"Our work on football stadiums is also benefitting food security in Qatar," said Dr. Saud. "By using the same technology on our farms, we have developed new methods to grow food in summer with less energy consumption. It fills me with pride to be able to use this technology for the benefit of the entire community."
The potential is limitless for cooling technology – which is set to be one of the integral legacies of the FIFA World Cup Qatar 2022™.
How it works: Qatar's cooling technology
1 – Outside air is cooled through air conditioning fans that are powered by solar energy
2 – The cooled air enters the stadium through grills in the stands and large nozzles on the pitch
3 – Using an air circulation technique, cooled air is then drawn back
4 – The drawn back air is then re-cooled and filtered
5 – Once re-cooled and filtered, the recycled air is pushed out again into the stadium