QATAR'S REAL ESTATE BUOYED BY COUNTRY'S SUCCESSFUL VACCINE PROGRAMME AND FIFA WORLD CUP 2022 EFFECT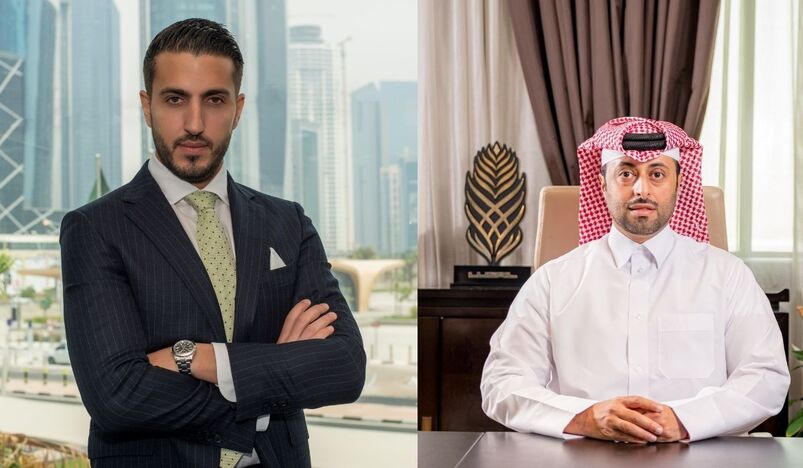 Samer Damaj, Acting General Manager, Qatar Sotheby's International Realty (left), Eng. Abdullah bin Hamad Al-Attiyah CEO of Qatari Diar (Right)
Qatar's successful COVID-19 vaccination programme – the largest in the country's history with 78% of the population now fully inoculated – and the build-up to the hosting of the FIFA World Cup 2022 are stimulating a resurgence of the nation's real estate market, according to leading market players.
Qatari Diar, a global leader in sustainable real estate developments, says it is sensing an uptick in both local demand and transaction prices following an initial pandemic-induced market lull.
Speaking ahead of its participation at Cityscape Qatar, the country's most prestigious and influential real estate investment, development, and networking event, which runs at the Doha Exhibition and Convention Centre from 17-19 October, Eng. Abdullah bin Hamad Al-Attiyah, CEO of Qatari Diar predicted a tourism revival will serve the market well:
"Local tenants are moving towards furnished, turn-key apartments and homes that provide services and amenities in addition to general maintenance. Many of our key developments provide this offering and represent an opportunity to lease available properties to tourists and new workers, in light of a developing trend for short-term rentals in the country."
Local tenants are seeking out long-term contracts that offer rent-free month incentives and include general maintenance services.
Luxury real estate brokerage firm Qatar Sotheby's International Realty says that while transactions have slowed, the prospects for the local market remain promising, with second home demand aiding an upward trajectory.
"We would describe the market outlook as positive; people are now looking for holiday homes, larger spaces, more in-house amenities, chalets etc. There has been an appetite and interest in exploring second homes as well," explained Samer Damaj, Acting General Manager, Qatar Sotheby's International Realty. "We have seen a shift away from buying internationally to buying domestically. Lockdown has shifted buyers' appetites, who are now looking towards increased square footage, as they look to have their own touch of luxury within their homes."
Cityscape Qatar's platinum sponsor, Qetaifan Projects, reiterated the change in consumer appetite "The pandemic has shifted the market into a buyers market and with that, we saw the need for developers and landlords to focus on good amenities and services." The real estate development company noted a trend in renters and buyers moving to affordable but premium properties in the last 18 months. "Buyers are now prioritizing units that include fully furnished options, offering the opportunity to rent their investments easily, especially as we approach a busy events season for the country."   
While praising recent government moves to incentivize the sector through opening more areas for expat investment and regulatory reforms to mature the market,Cityscape Qatar's exhibitors believe more can be done to hasten recovery. Damaj says buyers now want lower barriers to market entry with reduced down payments and longer staged payments.
In the short term, though, the country looks set to score a real estate windfall through the FIFA World Cup 2022.
Eng. Abdullah bin Hamad Al-Attiyah believes there are many opportunities available looking ahead; "The same applies to those who wish to take advantage of the rising selection of homes available by purchasing a new buy-to-let property. With our in-house property management specialists anticipating increasing rental demand throughout the World Cup's coverage and beyond, this should result in generous rental returns for existing and new property owners, on a short or long-term basis."
Qatari Diar and Qatar Sotheby's International Realty are among over 30 exhibitors due to participate at Cityscape Qatar 2021, which is organized by Informa Markets and the ELAN Group and held under the patronage of the country's Prime Minister His Excellency Sheikh Khalid Bin Khalifa Bin Abdulaziz Al Thani.  The event will also include a lineup of key industry speakers during the in-person conference, where industry experts will look at a number of current and future trends within Qatar's real estate market.
"The conference will throw light on the new industry drivers as Qatar emerges from the lifting of the blockade by Saudi Arabia, the UAE, Bahrain and Egypt, steps up its economic diversification journey, reaps the benefits of higher world LNG prices and continues to attract mega world events to its shores," said Chris Speller, Group Director of Cityscape at Informa Markets. "This will be the first Cityscape Qatar to be held in-person since these key developments have emerged and the industry is eager to explore their potential right across the real estate eco-system from residential to commercial, hospitality and industrial."