PUBLIC HOLIDAYS IN QATAR 2023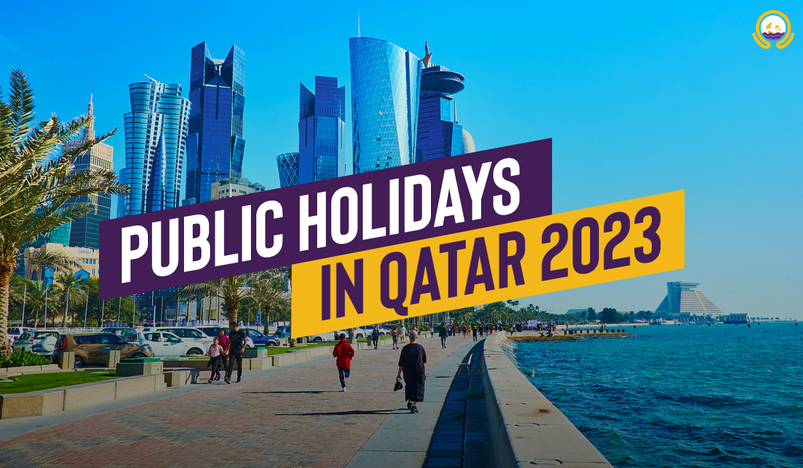 PUBLIC HOLIDAYS IN QATAR 2023
Who doesn't love a holiday? Whether you're planning on traveling abroad or simply taking time off from work to relax, here is a list of some of the public holidays in Qatar this year that can help you plan ahead.
The first holiday of the year is on the 14th of February making Qatar's National Sports Day. Coincidentally, the much celebrated Valentine's Day also falls on the same day, so if you're not out there running marathons, make sure to check out our list of fun things to do this Valentine's Day.
 The next holiday is a Bank Holiday observed on the first Sunday of the month of March every year. This year, the holiday falls on 5 March, although other public sectors are to continue as usual.
The Eid al-Fitr public holidays fall between the dates of Friday April 21 to Sunday April 23, followed by the Eid al-Adha holidays after a stretch of 2 months, from Wednesday June 28  to Saturday July 1.
The last public holiday of the year is on the 18th of December 2023- Qatar National Day. our last national day was the final match day at the FIFA World Cup Qatar, a day that is etched in the hearts of tourists and residents alike.
| | | | |
| --- | --- | --- | --- |
| 14 Feb | Tuesday | National Sports Day | Public holiday |
| 5 Mar | Sunday | March bank holiday | Bank holiday |
| 21 Apr | Friday | Eid al-Fitr (Tentative Date) | Public holiday |
| 22 Apr | Saturday | Eid al-Fitr Holiday (Tentative Date) | Public holiday |
| 23 Apr | Sunday | Eid al-Fitr Holiday (Tentative Date) | Public holiday |
| 28 Jun | Wednesday | Eid al-Adha (Feast of Sacrifice) (Tentative Date) | Public holiday |
| 29 Jun | Thursday | Eid al-Adha Holiday (Tentative Date) | Public holiday |
| 30 Jun | Friday | Eid al-Adha Holiday (Tentative Date) | Public holiday |
| 1 Jul | Saturday | Eid al-Adha Holiday (Tentative Date) | Public holiday |
| 18 Dec | Monday | National Day | Public holiday |
| 31 Dec | Sunday | New Year's Eve | Observance |