Prime Minister Witnesses Conclusion of Watan Exercise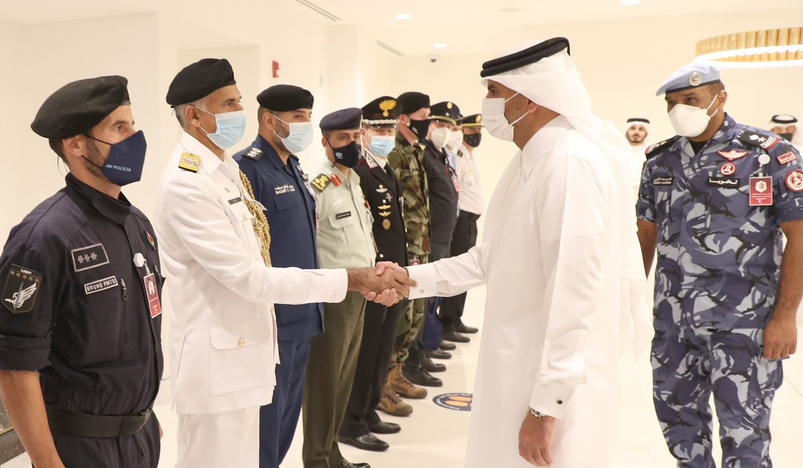 Prime Minister Witnesses Conclusion of Watan Exercise
HE Prime Minister and Minister of Interior Sheikh Khalid bin Khalifa bin Abdulaziz Al-Thani, Chairman of the Security Committee for the 2022 FIFA World Cup Qatar, witnessed on Wednesday evening the conclusion of the "Watan" exercise at Ahmed bin Ali Stadium at Al Rayyan Sports Club.
Also, HE the Prime Minister witnessed a visual presentation of the most prominent scenarios that were dealt with during the exercise, in the context of confirming the readiness to host major sporting events, including the 2021 FIFA Arab Cup and the 2022 FIFA World Cup Qatar with the participation of various military, organizational and service agencies, to activate the cooperation mechanism between all participating parties and measure the readiness to ensure the success of the events.
HE the Prime Minister and Minister of Interior visited the operations room, where he was briefed on the role of the concerned authorities as they carry out their regular tasks and the additional tasks, during the hosting of sports tournaments, to measure the speed of response to emergency events and activate the command and control mechanism.
Thirteen countries participated in the exercise with security and military forces to carry out multiple tasks with the aim of exchanging security expertise and experiences with brotherly and friendly countries.
The closing was attended by a number of Their Excellencies Sheikhs, ministers, heads of delegations, participating parties, security leaders and senior officials.
SOURCE: QNA