President of Ukraine Meets Prime Minister and Minister of Foreign Affairs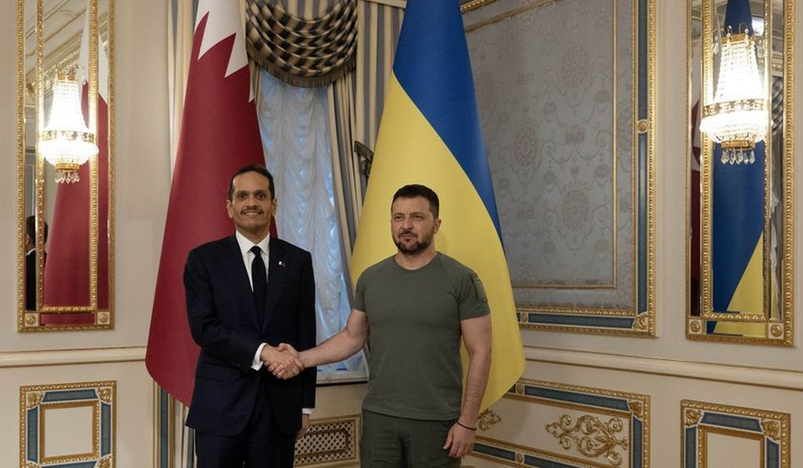 Volodymyr Zelenskyy with Sheikh Mohammed bin Abdulrahman bin Jassim Al-Thani
HE President of Ukraine Volodymyr Zelenskyy met with HE Prime Minister and Minister of Foreign Affairs Sheikh Mohammed bin Abdulrahman bin Jassim Al-Thani at the presidential palace in Kyiv on Friday.
At the outset of the meeting, HE the Prime Minister and Minister of Foreign Affairs conveyed the greetings of HH the Amir Sheikh Tamim bin Hamad Al-Thani, and his wishes of good health and wellbeing to HE President of Ukraine and for peace and stability to friendly Ukrainian people.
For his part, HE the Ukrainian President entrusted HE the Prime Minister and Minister of Foreign Affairs with his greetings and wishes of wellness and happiness to HH the Amir, and to the Qatari people for further development and growth.
During the meeting, the two sides touches on the two countries' bilateral cooperation relations and discussed the latest developments in the Russian-Ukrainian crisis and ways to solve it peacefully. They also exchanged viewpoints on a host of regional and international issues of common concern.
HE the Ukrainian President expressed his thanks to the State of Qatar for its position on the Russian-Ukrainian crisis, affirming his keenness on cooperation between the two countries, especially in the economic field.
In turn, HE the Prime Minister and Minister of Foreign Affairs affirmed the position of the State of Qatar in support of all international efforts to find a peaceful solution to the Russian-Ukrainian crisis through dialogue and diplomatic means, as well as not taking any action that would lead to further escalation.
Furthermore, His Excellency stressed the importance of respecting the sovereignty and independence of Ukraine and its territorial integrity within its internationally recognized borders, stressing in this regard the need to adhere to the Charter of the United Nations and the established principles of international law, including the obligation to settle international disputes by peaceful means, refraining from the threat or use of force, and respecting sovereignty, independence, and territorial integrity of states.
His Excellency underlined the need to work towards a return to the Black Sea grain deal to ensure the security of global food supply lines, and the arrival of food shipments to consumers.
(QNA)