President of Civil Service Bureau: Training Program 'AI in Government Sector' First of GCC Countries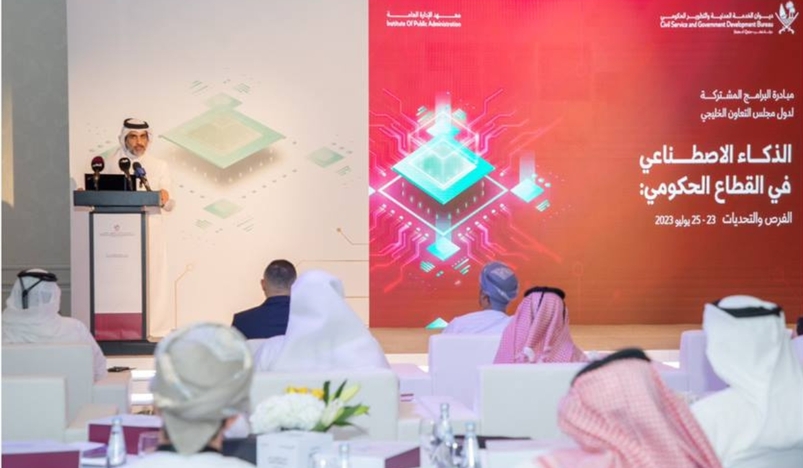 Training Program 'AI in Government Sector' First of GCC Countries' Joint Programs
HE President of the Civil Service and Government Development Bureau Abdulaziz bin Nasser bin Mubarak Al Khalifa affirmed that the training program 'Artificial Intelligence (AI) in the government sector: opportunities and challenges", which started yesterday, is the first of the joint programs of the Gulf Cooperation Council (GCC) countries in view of its importance and its current and future role in developing government services, and discussing the role of employing AI in the government sector as well as its effects and ethics.
His Excellency explained that the program is an implementation of a proposal submitted by the State of Qatar during the meeting of ministers and heads of civil service bureaus in the GCC countries to provide joint training programs. He praised the effective role of the Ministry of Information and Communications Technology in developing government services using artificial intelligence.
The Civil Service and Government Development Bureau launched yesterday the three-day training program "AI in the government sector: opportunities and challenges", which is presented by the Institute of Public Administration, as part of the joint programs initiative of the GCC countries, with the participation of 19 trainees from the GCC countries.
The program aims to introduce the trainees to AI and its role in raising the efficiency of the government apparatus, improving its services by introducing them to the available opportunities and challenges facing decision-makers, and identifying the ethical considerations associated with the use of these technologies and their relevance to cybersecurity.
For his part, the Institute of Public Administration's Director Raed Ibrahim Al Emadi explained that this program comes at the core of the institute's mission to cooperate with local, regional and international partners to exchange experiences and share knowledge in order to draw a road map for dealing with AI and its applications in the government sector in Qatar and the GCC countries to advance government services.
In the context, Director of Government Development Affairs at the Civil Service and Government Development Bureau Hassan Abdulrahman Al Ibrahim stressed the importance of holding such programs, given the recent trends in the application of AI and its implications and risks, in addition to the ethical issues related to it.
He pointed out that the Service Bureau has worked during the past period to include AI techniques in many of its initiatives, with the aim of improving the efficiency of providing government services.
The initiative of joint programs for GCC countries seeks to develop the knowledge and skills of employees, directors of departments and heads of sections in ministries and government agencies in the GCC countries, provide them with opportunities to exchange experiences and strengthen cooperation, partnership and coordination between government agencies to train their employees.
The idea is based on holding training programs and workshops in rotation among the member states of the Council by convening two training programs annually during a period of three years.
(QNA)