Power Outage at Philippine Airport Cancels Dozens of Flights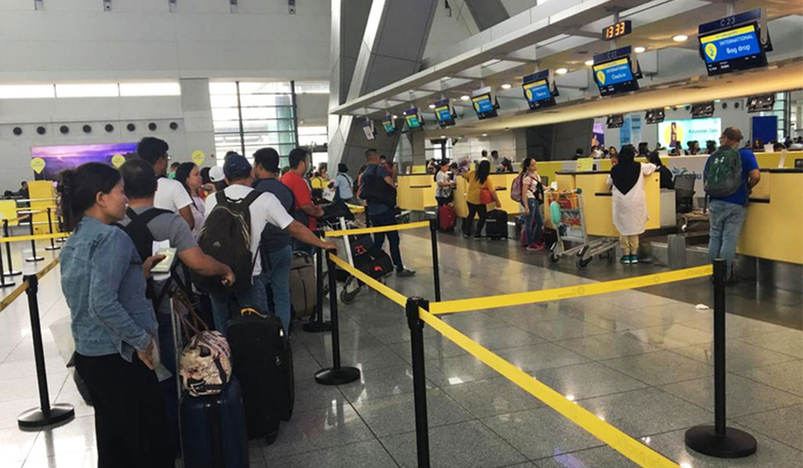 Philippine Airport
An almost eight-hour power outage hit the Philippines' main airport on Monday, leading to dozens of flight cancellations and delays and leaving thousands of passengers stranded following a long holiday weekend.
Power had been fully restored at the airport in the capital Manila and authorities are still in the process of finding the cause of the blackout, Transportation Secretary Jaime Bautista told a briefing. Bautista said he's not ruling out the possibility of sabotage. 
"We're not discounting that," he said, adding an investigation into what happened will "help us assess whether there's sabotage or not." There's a need for a "full electrical audit" of the airport that may take between two to three months, Bautista said. 
The outage came four months after a power failure forced authorities to close the Southeast Asian country's airspace on New Year's Day, affecting about 600 flights and around 65,000 passengers. A seven-hour blackout in September at the same airport affected more than 30 flights.
Monday is a public holiday in the Philippines and many were expected to fly in or fly out of Manila after a three-day weekend.
A total of 48 Cebu Pacific Air domestic flights were canceled on Monday, affecting more than 9,000 passengers, airline spokesperson Carmina Romero said. She said another 45 flights were delayed.
Standby power supplied electricity to the airport during the outage that began at 1:05 a.m. local time but was only enough for critical facilities including computer systems of airlines and immigration to function partially, Manila International Airport Authority said in a statement. Power was restored fully at 8:46 a.m. 
President Ferdinand Marcos Jr., who left on Sunday for an official US visit, earlier instructed Bautista to restore power at the airport "as soon as possible." Marcos is scheduled to meet with US President Joe Biden at the White House on Monday.
Last week, six of the Philippines' biggest conglomerates revived a proposal to upgrade the Ninoy Aquino International Airport, submitting to the government a 100 billion-peso ($1.8-billion) plan to modernize and increase its capacity. 
Bloomberg