Play areas reopened, Mini-golf at City Center flocked with happy children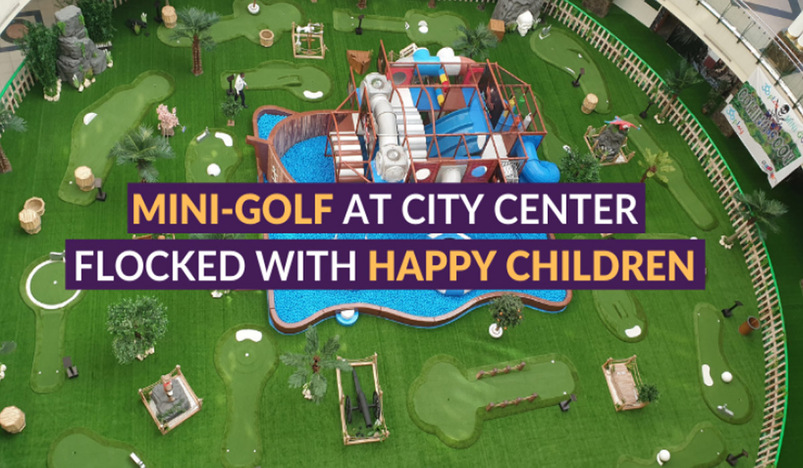 Play areas reopened, Mini-golf at City Center flocked with happy children
One of the most anticipated decisions in the second phase of gradual lifting of COVID-19 restrictions for parents is that children are now allowed entry into malls and souqs from Friday, June 18, 2021. However, before the cabinet announced its decision, many people had expressed that they can't take their young ones anywhere, especially now as temperatures had started soaring and outside play had become rather difficult.
The new eased regulations are part of a four-phase plan introduced by the ministry of health and commerce in early May, following a significant dip in daily and active cases in the last month.
The eased regulations were welcomed by families, especially kids waiting eagerly to go back to the play areas in malls for some quality fun and happiness.
360 Play's Mini Golf, infused with a Pirate Ship theme, is one of the play areas at City Centre which has reopened since this announcement and had witnessed a significant crowd on its reopening day. Needless to say this was well managed and all the preventive measures issued by the ministry of health were being adhered to strictly to ensure the safety of the children and parents alike.
Located on the ground floor of City Center-Doha, 360 Play Mini Golf is a family-friendly place designed to pursue excitement, fun, and adventure while exploring and getting a taste of the wonderful world of golf. It also features a leisure entertainment hub for the entire family and much more!
This unique mini golf experience in Qatar blends the nostalgic joy of this traditional international sport with modern game features. It comes with challenges that will get the whole family excited. Miniature golf can prove to be a fun activity for children, as well as adults.
Challenge your family members, friends, or colleagues to the most exciting multiplayer mini golf game in Qatar!
You can head over to City Center with your friends or family or prebook your slot with 360 Play's Ticketing partner, Qtickets at https://bit.ly/3vHzyOm 
RATES
Mini Golf Single Entry
35 QAR per person (1-hour time limit)
Pirate Ship Single Entry
25 QAR per person (30 minutes)
Nannies
20 QAR
Family of 4 (2 Adults and 2 Children)
120 QAR per game (1-hour time limit)
Day Pass
100 QAR per person (unlimited games)
OPENING TIMES
Saturday - Wednesday
10:00 AM to 10:00 PM
Thursdays & Fridays
10:00 AM to 12 Midnight