Pinheiro Announces Final Squad for Gulf Cup 25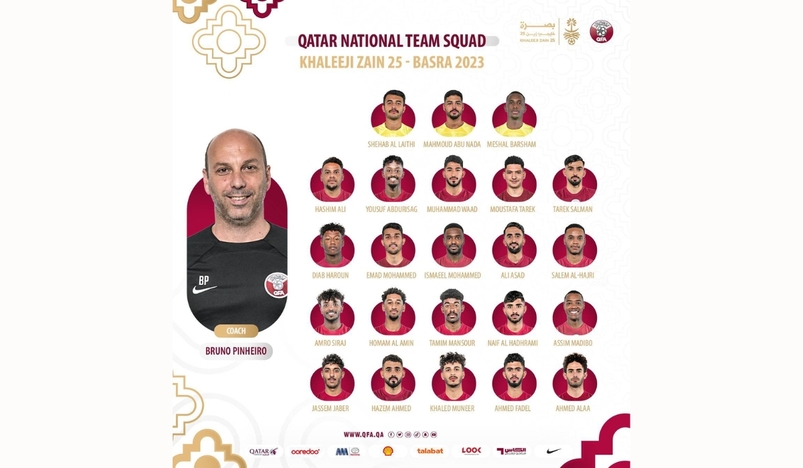 Qatar's Final Squad for Gulf Cup 25
Qatar national team manager Bruno Miguel Pinheiro has announced the final squad for the 25th Arab Gulf Cup to be held in Basra, Iraq, from January 6 to 19, 2023.
The 23-man squad are Meshaal Barsham, Tarek Salman, Mustafa Meshaal, Muhammad Waad, Yousuf Abdurisag, Hashim Ali, Salem Al Hajri, Ali Asad (Al Sadd), Ismaeel Mohammed, Shehab El Laithi, Mohamed Emad, Diab Haroun, Assim Madibo (Al Duhail), Naif Al Hadhrami, Tamim Mansour (Al Rayyan), Homam Al Amin, Amro Suraj, Ahmed Alaa (Al Gharafa), Ahmed Fadel, Khaled Muneer, Hazem Ahmed (Al Wakrah), Mahmoud Abunada, and Jassim Jaber (Al Arabi).
Mohammed Muntari, who scored Qatar's only goal at the FIFA World Cup Qatar 2022, will miss the Gulf Cup 25 after suffering a knee injury.
The Qatari football team will leave for the Iraqi City of Basra on Wednesday. The squad will undergo training exercises on Thursday in preparation for a match against Kuwait at 7:15 pm on Friday at Al Kut Olympic Stadium in Group B that includes UAE and Bahrain.
(QNA)