Philippines' Marcos and Duterte set for landslide win in 2022 National Elections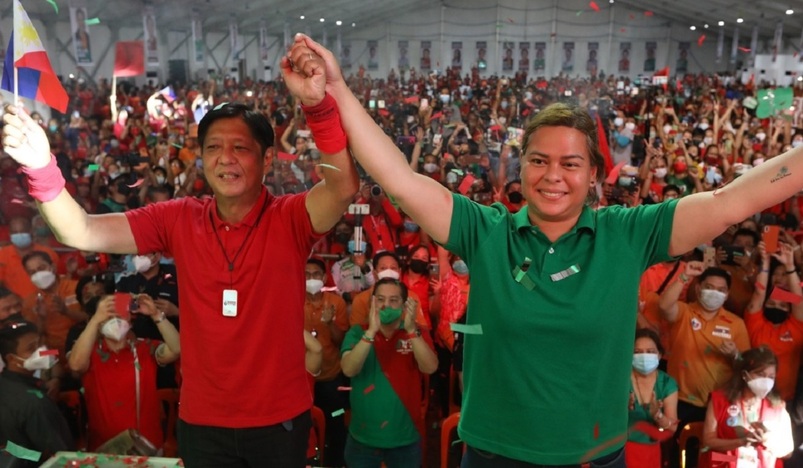 Philippines Elections 2022: Bongbong Marcos and Sara Duterte poised to in landslide
Former Senator Ferdinand Marcos Jr. and his running mate, Davao City Mayor and presidential daughter Sara Duterte, took a commanding lead in the partial and unofficial tally of votes cast in Monday's elections, the numbers reflecting their consistent dominance in the surveys.
The 64-year-old frontrunner of the presidential elections told Filipinos on late Monday night that he could no longer contain his gratitude as he leads the unofficial count. He has so far won 56% of the vote, compared to 28% for rival Leni Robredo.
Marcos' victory would return his family to power 36 years after his father, the late President Ferdinand Marcos Sr's regime.
"We know that the count is not yet done, is not yet over, we still need to be vigilant but I want to issue a statement of gratitude to all of those who have been with us in this long and sometimes very difficult journey for the last 6 months," Marcos Jr. said in a message at his campaign headquarters in Mandaluyong City.
He thanked his supporters, volunteers, parallel groups, and political leaders who "cast their lot with us."
He urged his supporters to continue to guard their votes and continue to support him should he win as president.
Turnout was expected to be high among the more than 65 million Filipinos eligible to vote on Monday.
"The long lines are magnificent. Filipinos wanted to be heard and heard loudly," said Comelec Commissioner George Garcia.
The younger Marcos is not a newcomer to politics, having served in various elected positions over the years. He lost the 2016 vice-presidential election to Ms Robredo - a result he fiercely contested.
In the run-up to this election, critics say his campaign didn't detail his plans or policies, and that he avoided debates where he might face independent questioning.
Robredo, who ran for president on the promise of a clean and effective government, also drew huge crowds at her "pink revolution" rallies.
The rival campaigns turned this into one of the Philippines' most watched elections. Both candidates tried to woo those below the age of 30, who account for nearly half of the registered voters.
Marcos Jr is set to inherit a country whose economy appears to be recovering from the pandemic better than expected.
President Rodrigo Duterte, a hugely popular strongman-style leader, oversaw a notorious war on drugs in the country.
His daughter, Sara Duterte, who ran for vice-president alongside Marcos Jr, is leading by a wide margin of votes, partial results show.
The election was not just for the presidential positions, but also for senators, the lower house and regional officials across the entire archipelago.
The official count of all votes may take days.
Sources: Reuters, BBC, and Inquirer