Philippines evacuates thousands after Mayon volcano rumbles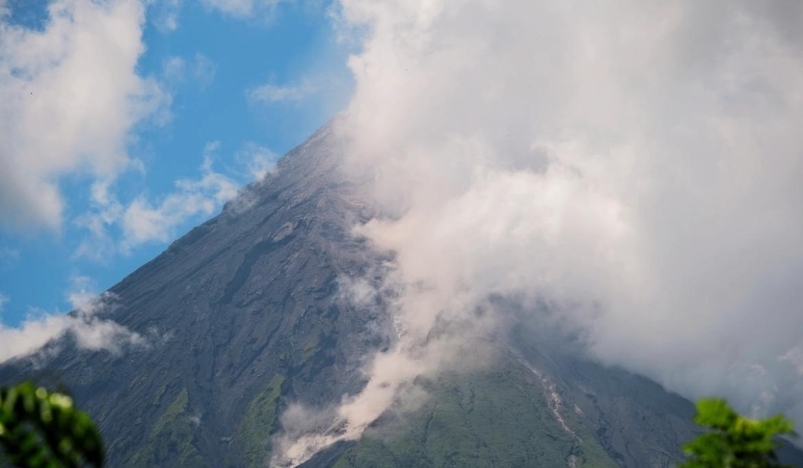 AP Photo
More than 6,000 villagers have been forced to leave rural communities within a six-kilometre (3.7-mile) radius of the Mayon volcano's crater in northeastern Albay province in the Philippines.
Officials on Saturday said thousands more need to be moved to safety from the permanent danger zone amid another threat: monsoon rains that could be unleashed by an approaching typhoon.
Authorities warned that Typhoon Guchol, which is approaching the Philippines from the Pacific but is projected to skirt the archipelago, may still dump heavy rains – unwelcome news for those living near Mayon's slopes.
"There's a typhoon and floodwaters may rush down Mayon and swamp this village. That's one of our fears," Villamor Lopez, a house painter, told The Associated Press.
He sat worriedly with his relatives clinging to their bags of clothes, rice in pouches and bottles of drinking water on a pick-up truck hauling villagers from Daraga town in Albay to an emergency shelter several kilometres away.
People living outside the perimeter have packed their bags and voluntarily left with their children for evacuation centres in Albay, which was placed under a state of calamity on Friday to allow the more rapid disbursement of emergency funds in case a major eruption unfolds.
"The local government has already declared a state of calamity, which means forced evacuation is already enforced and alert level three has been raised over the Mayon volcano because of heightened activities that could lead to a hazardous eruption," Al Jazeera's Barnaby Lo, reporting from Camalig in Albay province, said.
"This could happen within days or weeks or even months. No one knows when it will happen but thousands of people have left their homes and they are in different evacuation centres."
Authorities raised the alert level for the volcano on Thursday after superheated streams of gas, debris and rocks cascaded down its upper slope, indicating activity below the surface that could precede a hazardous eruption within days or weeks.
A key tourist draw for its picturesque conical shape, the 2,462-metre (8,077-foot) Mayon is one of the country's most active volcanoes. It last erupted violently in 2018, displacing tens of thousands of villagers.
Residents chatted on a roadside near a chapel, still undecided whether to leave.
A loudspeaker in their laid-back community of low-slung rural houses and narrow dirt alleys warned people to prepare to evacuate any time if the situation worsens. In the overcast sky above them, the volcano lay hidden by thick rainclouds.
Village leader Dennis Bon, who was preparing to drive Lopez and others to the shelter, said he would not risk waiting until the last minute.
"We have children, persons with disabilities and elderly residents here," Bon said, before he drove off.
Albay Governor Edcel Greco Lagman and Welfare Secretary Rex Gatchalian said they were prepared if monsoon rains were to trigger mudflows and rockfalls.
"We will still make sure that we will have no casualties from any compounded calamities," Lagman said.
In Bonga village near the volcano, a few men gingerly took a bath in a stream of spring water flowing down Mayon's lush foothills and washed two motorcycles near boulders as big as cars that had rolled down years ago during past eruptions.
They shrugged and smiled when asked if the volcano's new rumblings had struck fear.
The Philippines lies along the Pacific "Ring of Fire," an area around the ocean rim where tectonic plates meet, that is prone to earthquakes and volcanic eruptions.
A long-dormant volcano, Mount Pinatubo blew its top north of Manila in 1991 in one of the biggest volcanic eruptions of the 20th century, killing hundreds of people.
(Al Jazeera)