Philippine volleyball team trains in Qatar ahead of SEA Games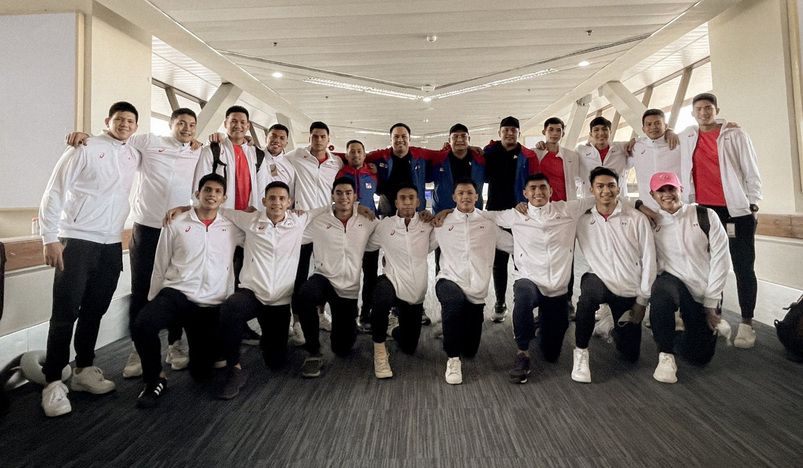 Philippine volleyball team
The Philippine men's volleyball team arrived in Qatar for a training camp in preparation for the 31st Southeast Asian Games which will be held in Hanoi, Vietnam from May 12-23.
The touring squad led by John Vic De Guzman also includes Mark Alfafara, Nico Almendras, JP Bugaoan, Kim Dayandante, Joeven Dela Vega, Rex Intal, Lloyd Josafat, Jack Kalingking and Jessie Lopez. Kim Malabunga, Ysay Marasigan, Ish Polvorosa, Josh Retamar, Francis Saura, Manuel Sumanguid and Jao Umandal are also part of the team.
Head coach Dante Alinsunurin and assistant coaches Ariel dela Cruz, Raymond Franza and Jeffrey Malabanan are also in Doha ahead of the training camp.The Philippine National Volleyball Federation, in a statement, said that the two-week training camp was made possible through the support of the Qatar Volleyball Association.
"We are honoured and thankful for this opportunity to train overseas. We will gain a lot of learnings that we will bring when we compete in the SEA Games. We hope we can make our country proud," national coach Alinsunurin said.
"I believe we still have what it takes to surpass our previous runner-up finish despite the two-year hiatus caused by the pan-demic. We were able to make up for lost time last year. I'm glad that we have more time to prepare this year. We hope to improve the things we lack in the previous SEA Games and gain more exposure and polish our service receive when we train in Qatar," the coach said during their virtual send off last week.
During the 2019 Southeast Asian Games, the Philippine men's volleyball team bagged the silver medal and will be looking to better their result this year, aiming for a gold in Hanoi.Prior to the Qatar training camp, the national team attended a six-week training camp in a bubble in Taguig City, Philippines.