Passenger onboard Qatar Airways flight from Doha to Casablanca tried to open plane door and jump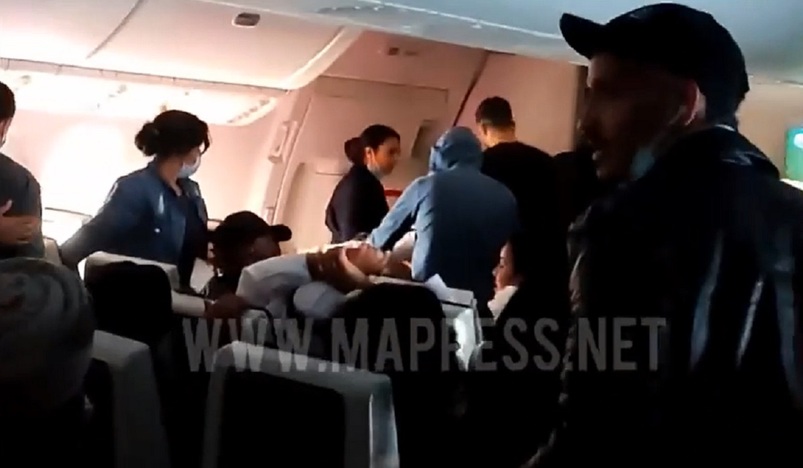 In a dangerous and exclusive video, a young man wanted to open the gate of the plane at an altitude of 12,000 meters while he was chanting "God is great" on a trip to Casablanca.
On February 15, a Qatar Airways flight from Doha to Casablanca witnessed a state of panic among the passengers, after a person shouted the takbeer and martyred as if he was preparing for a suicide attack in the middle of the plane, which is at an altitude of 12,000 meters, Al Sharq  reported.
According to mapress.net, a passenger was injured in the face as the assailant gave him lightning punches. One of the passengers, who happened to be a world champion in Jiu-Jitsu came to the rescue. He was able to control him tightly, while the flight attendants handcuffed the violent passenger in one of the seats, after the plane landed at Mohammed V Airport at one and a half.
Brazilian Jiu-Jitsu is a grappling-based martial art, which central theme is the skill of controlling a resisting opponent in ways that force him to submit. 
The passenger who caused commotion in the plane was handed over to the security authorities at Mohammed V Airport in Casablanca.
Qatar Airways statement about the incident:
"Qatar Airways is aware of an incident on board our flight QR1397, Doha to Casablanca, on 15 February involving a disruptive passenger. Our cabin crew contained the situation professionally before any further escalation and the passenger was met by authorities upon arrival. Qatar Airways does not tolerate disruptive behaviour of any kind as the safety and security of our passengers and crew is our highest priority."
Source: Mapress.net