Pandora's Store Re-Opens with a Brand New Concept at Lagoona Mall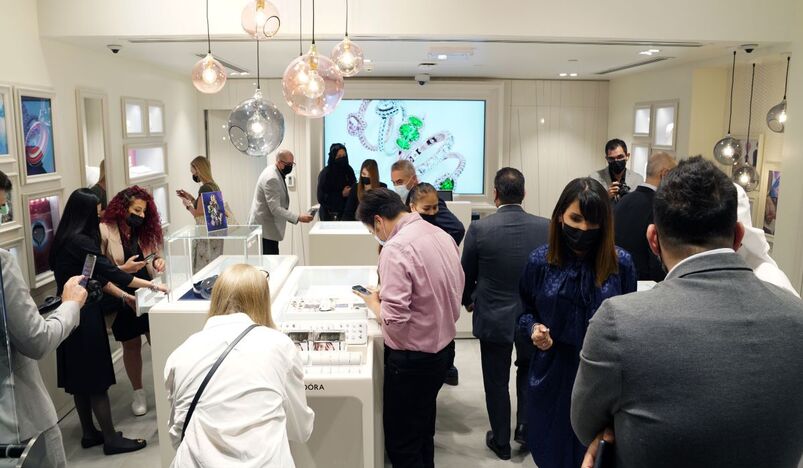 At Lagoona Mall, customers check out the re-opend Pandora store
Pandora, the renowned jewellery brand, has re-opened its store at Lagoona Mall with new and astonishing decor that provides customers with an enhanced and unique shopping experience.
Attended by VIP customers, social media influencers, and members of the press, the opening ceremony was held on March 15, 2022. Following the official ribbon cutting, customers were welcomed to the newly designed store and introduced to the latest collections of the brand. They had the opportunity to live a truly intuitive and playful experience and were encouraged to touch and feel the products to learn more about the craftsmanship of the hand-finished jewellery.
Covering an area of 54sqm, the store's new design follows Pandora's Evolution Design concept, which features a charm counter where customers can mix and match bracelets, charms, and a treasure table showcasing new items and bestsellers.
The new concept also changes everything from color choices including the Pandora Pink as the main shade to lighting to interior design and focuses on creating a welcoming and interactive environment. The relaunch also introduced a redesigned logo, visual identity, products and collaborations.
Today, Pandora displays the latest creations including the most recent collection, MARVEL x Pandora, that was specially created for all MARVEL fans. The collection is inspired by the popular characters from the MARVEL Universe and includes charms that portray MARVEL personalities.
In addition, Pandora also presents the Spring 2022 collection, "Pandora's Moments", which features 14k rose-gold and silver charms, earrings, and pendants. The collection represents nature, as it embraces the blue-sky sensation.
Customers can now visit the re-opened store on the Ground Floor at Lagoona Mall.