Ounsa Ladies Only Lounge Launches at Hilton Salwa Beach Resort & Villas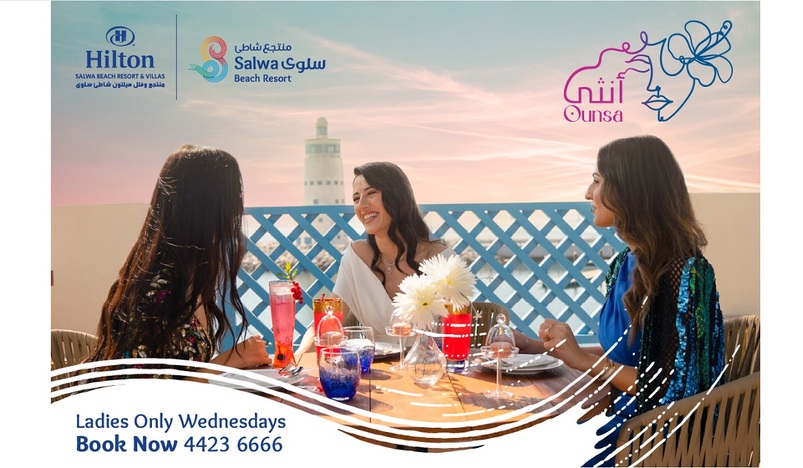 Ounsa Ladies Only Lounge
Hilton Salwa Beach Resort & Villas has launched a new concept called the "Ounsa" – a one-of-a-kind terrace lounge for Ladies Only. Guests can enjoy the best sunset views with the picturesque lighthouse overlooking the resorts marina, and party through the night to the tunes of the resident female DJ at the newest and trendiest spot for Ladies Only! 
Ounsa is open every Wednesday from 3pm till 11pm and costs QAR190 per person for a set menu. Guests can enjoy a selection of cold and hot canapés, deserts, mocktails and shishas while mingling with friends! 
*Ounsa access is complimentary for villa guests at the resort. 
For bookings, call 44236666 or visit www.qtickets.com.
Below are the FAQs to note for Ounsa Ladies Only Terrace Lounge:
• What is Ounsa?
Ounsa in Arabic stands for female / feminine. It is an exclusive Ladies Only outlet opening only on Wednesdays for women looking for a fun place to dine, dance, relax and spend time with friends.
• Where will it be taking place?
Ounsa is located at the marina and the setup is available only on the first floor of the outlet. 
• What is the timing? 
Every Wednesdays from 3:00pm-11:00pm 
• How much does it cost?
- QAR190 per person for a set menu – includes mini bites, coffee station, two specialty mocktails
- QAR130 for shisha 
• Is it free for all in-house guests 
Access is complimentary for villa guests only
• Will alcohol be served?
Alcohol will not be served 
• What type of food and drinks are served? 
A selection of cold canapes, hot canapes, deserts, zero cocktails, soft drinks, fresh juices, coffee, tea, classic and medusa shishas (single and double pipes)
• Are men allowed?
No men are allowed. 
• Are the service team from the resort female only? 
Service team and security in the outlet are all females. 
• Will the cameras be working 
Based on government regulations, our cameras will remain active but will be manned at all times by female security team members. 
• Is there transportation from Doha
Transportation is not provided at the moment for guests coming from Doha 
• Minimum age to enter 
Minimum age of entry is 16+ 
• How do I purchase my tickets?
Tickets are sold exclusively on Q-tickets or phone call 44236666
• What entertainment is available?
There is a resident female DJ available.