Oryx Group for Food Service Organize Beach Cleaning Activity to Support Community and Sustainability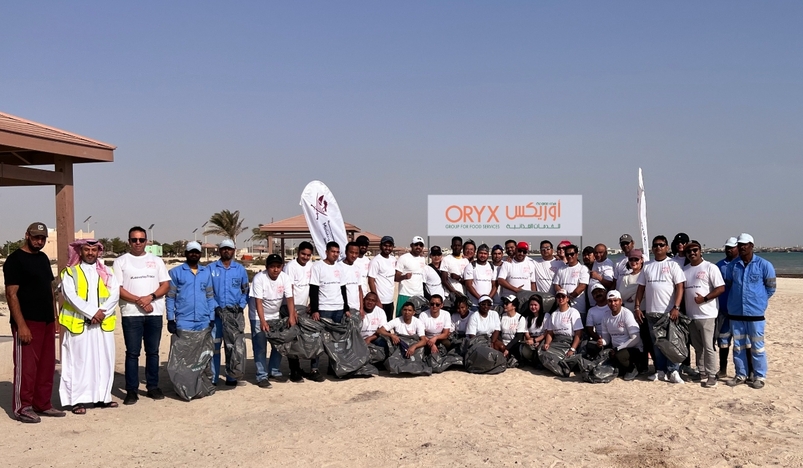 Oryx Group for Food Service Organize Beach Cleaning
Oryx Group for Food Services, a leading food and beverage company in Qatar, recently organized a successful beach cleaning activity on Al Wakra beach. 
Approximately 70 members of the Oryx Group staff, including employees from Nando's Qatar, Ocean Basket, and Captain Billy's, all of which are part of the Oryx Group, attended the event. This initiative was part of the company's ongoing commitment to sustainability and community care, said Tabrez Paloji, Human Resource Manager at Oryx Group 
The beach cleaning activity organized by Oryx Group for Food Services was conducted under the supervision and support of the Ministry of Municipality and Environment (MME) in Qatar.  The ministry's support and supervision ensured that the beach cleaning activity was conducted in a safe and effective manner, with proper waste disposal and adherence to environmental regulations. 
The beach cleaning activity was conducted under the #leavenotrace campaign, aimed at raising awareness about the importance of keeping beaches clean.  Oryx Group is committed to making a positive impact on the environment and the community, and Nando's Qatar and Ocean Basket share the same values. 
"We are proud of our staff who participated and showed their dedication to making a difference. We believe that by working together, we can create a cleaner, more sustainable future for Qatar," said Vyanktesh Jaiswal, COO, Oryx Group for Food Services. The company regularly organizes events and activities aimed at raising awareness and promoting positive change, and it will continue to do so in the future.
The company plans to make beach cleaning events a periodic activity in the future, in line with its commitment to sustainability and environmental responsibility, Vyanktesh added. 
Oryx Group for Food Services is a leader in the food and beverage industry in Qatar, operating several popular restaurants and catering services across Qatar.