Ooredoo Group Wins 13 Awards at Stevie International Business Awards 2022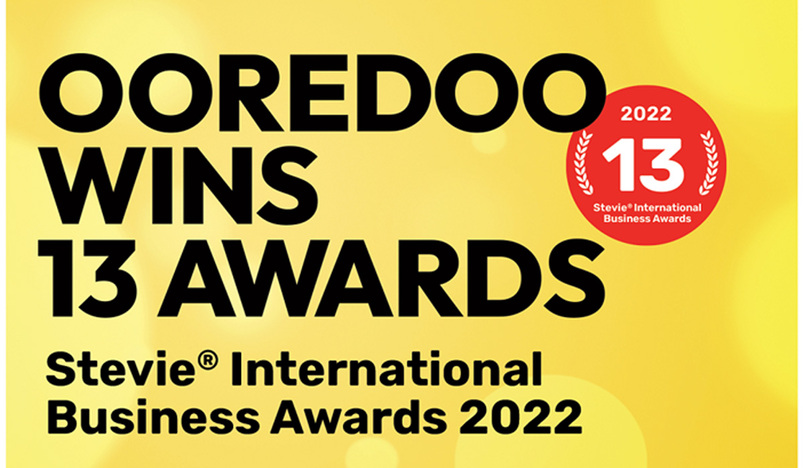 Ooredoo Group
Ooredoo Group has announced the wins of 13 awards at the 2022 Stevie International Business Awards (IBAs), with Group and its operating companies receiving three Gold, three Silver and six Bronze awards.
The Stevie IBAs honour the outstanding performance and positive contributions of organisations worldwide. Ooredoo was lauded for its outstanding performance across a range of award categories, for areas including innovation, human resources and customer satisfaction.
Commenting on the awards, HE Sheikh Mohammed bin Abdulla Al-Thani, Deputy Group Chief Executive Officer, Ooredoo, said:  "We are delighted and proud that our operating companies are the recipients of yet another host of awards for another year. Our teams across our global footprint work tirelessly to offer our customers the best products and services, and the best customer service, and these awards are strong testament to this commendable dedication. We have a strategic commitment to upgrading our customers' worlds through innovation and digitalisation, and we are excited to see so many of the awards recognise our efforts in this regard. We are also pleased to see an award for our excellence in human resources this year; evidence that our corporate strategy to invest in our people is paying off." Ooredoo Group's recognition at the Stevies continues with the nomination of Fatima Sultan Al Kuwari, Group Chief Human Resources Officer, as a finalist in the Stevie Awards for Women in Business.
Al Kuwari is in the running for an award in the Female Executive of The Year - Business Products - More than 2,500 Employees category, with results set to be announced mid-November.
(QNA)