Ooredoo Cup Round 2: Al Gharafa 1 Qatar SC 1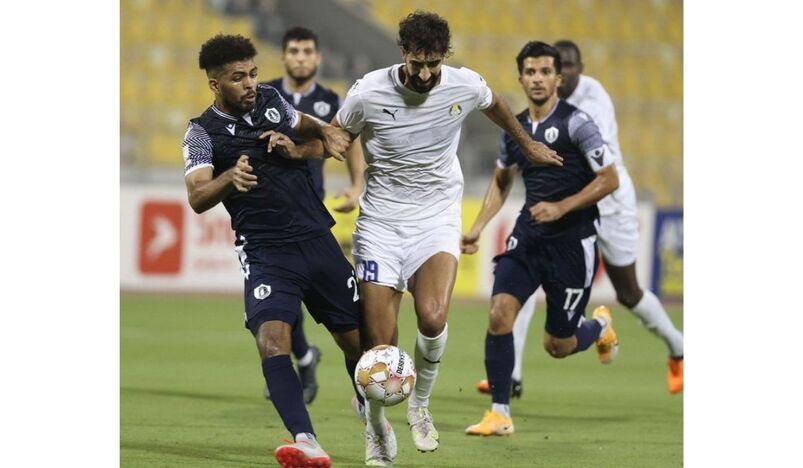 Al Gharafa and Qatar SC players in action
Al Gharafa and Qatar SC shared points after a 1-1 draw in Round 2 (Group B) of the 2021-2022 season Ooredoo Cup at the Qatar SC Stadium on Wednesday.
Cheick Diabate (23rd minute) scored for Al Gharafa, while Abdulaziz Adel (79th minute) gave Qatar SCs reply.
Al Gharafa playing their first match in the tournament and Qatar SC are now on one and four points respectively.
In the eighth minute, Al Gharafas Malian striker Diabate got close to Qatar SC goal, but his right-footed drive sailed above the crossbar two minutes later Al Gharafa's Abdullah Ali went long-range but his shot also sailed above the Qatar SC crossbar.
In the 15th minute Ahmed Al Saadi of Qatar SC got time and space to drill a shot but he caught a deflection off Saied El Hajj's leg as the ball went out for a corner.
Young Abdullah Ali picked up a cross from close to the Qatar SC box in 23rd minute after charging ahead with the ball he picked out an unmarked Diabte inside the box and the latter easily deflected the ball into the top of the net from close range to give Al Gharafa the lead.
Five minutes from the end of first half Abdullah Ali managed a snap-header from close range but he lacked pace on the deflection and the ball was collected by Qatar SC keeper Motasem Majed.
In the dying seconds of first half Al Saadi managed a shot towards the goal from close range but defender Saied El Hajj blocked the ball with his long reach.
In a sudden burst of aggression Qatar SCs Jassim Fahad Al Zarra hit the goalpost from close range as they failed to equalize in the first minute after resumption of play.
In the 67th minute Muyad Hassan charged into the Al Gharafa box with the Qatar SC keeper giving him hot chase just as he stepped out to block the move Muyad drilled a shot that hit the keeper and slipped away.
Qatar SC produced the equalizer through Abdulaziz who outpaced two defenders before producing a bullet from the edge of Al Gharafa box. (QNA)