Ooredoo Cup: Al Khor 0 Vs Al Arabi 0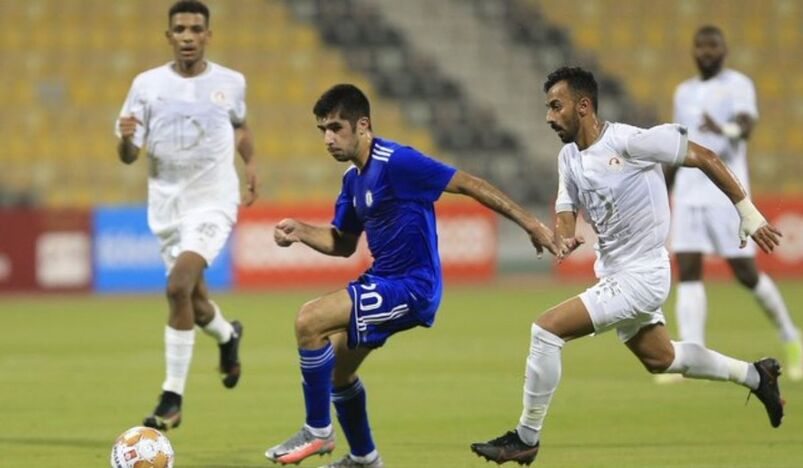 Al Khor and Al Arabi players in action
Al Khor and Al Arabi played out a goalless draw in Round 2 (Group B) of the 2021-2022 season Ooredoo Cup at the Qatar SC Stadium on Tuesday.
Al Khor and Al Arabi now have one and two points respectively.
Al Khor had lost 1-2 to Qatar SC, while Al Arabi were locked in a 2-2 draw with defending champions Al Sailiya in the opening round.
The result left both teams still searching for their first victory in the tournament.
Al Gharafa, Qatar SC and Al Sailiya are the other teams in Group B.
Al Khor made more attacks in the first half, with Giannis Fetfazidid, Rafael Vaz and Ahmed Al Mohannadi at the helm.
After Vazs free-kick flew wide in the seventh minute, Fetfa had his placing shot go wide of the target and the Greek almost scored in the 20th minute, but his power-packed volley was blocked by Al Arabi goalkeeper Sataa Al Abbasi.
Al Arabi tried to get into the game and the trio of Abdulqadir Ilyas, Abdulaziz Al Ansari and Abdulrahman Mohammed tried to make inroads, but the Al Khor defence held firm.
Al Khor received a penalty kick in the 28th minute when Ahmed Al Mohannadi was obstructed by the Al Arabi goalkeeper, but it was cancelled after consulting the VAR.
Al Arabi upped the ante in the second half and Ilyas header in the 58th minute was off the target of Al Khor goalkeeper Ali Naders post.
Ahmed Al Mohannadi and Rami Suhail had chances at either end past the hour mark.
Al Arabi made serious attempts at the goal in the last minutes, in vain though. (QNA)