One lane on A-Ring Road dedicated only for public buses and taxis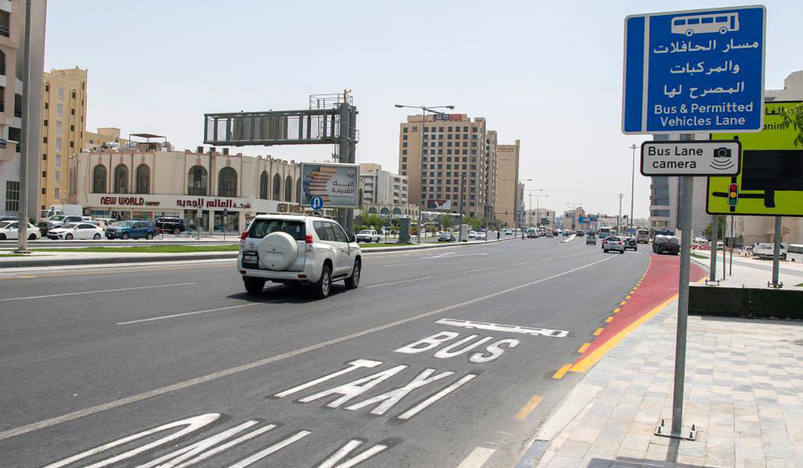 A-Ring Road
Public Works Authority (Ashghal) has dedicated a lane on A-Ring Road only for public buses, taxis, and authorized vehicles to facilitate traffic and serve FIFA World Cup 2022 transportation plan. This is in coordination with The Supreme Committee for Delivery and Legacy, Ministry of Interior, Ministry of Transport, and Mowasalat (Karwa).
Eng Abdulaziz Al Mawlawi, Mobility Executive Director at the SC, said: "The bus lane will help to provide a smooth and environmentally-friendly transport experience for thousands of fans during the FIFA World Cup." For his part, Lieutenant Eng. Khalid Nasser Al-Mulla, Head of the Technical team of the Corniche Closure Committee, pointed out that the new lane will be designated for public transport buses, taxis, and authorized vehicles such as emergency vehicles. All necessary traffic markings and directional signs that support law enforcement and the monitoring of traffic violations in future stages have been developed.
He added that a designated lane for public buses would reduce travel time and this will encourage the use of public transportation and reduce the number of personal vehicles on the road. The lane will also facilitate faster arrival of police and emergency vehicles to accident sites.
Acting Director of Land Transport Network Planning Department in the Ministry of Transport Saleh Saeed Al Marri stated that, in addition to reducing travel time during World Cup, the bus lane will significantly contribute in reducing CO2 emissions as well as traffic congestion, especially in main intersections in Doha Central. this is in line with measures that will be taken during the tournament to reduce the use of personal vehicles, as environmentally friendly buses that run on electric energy will be operated.
He added that the proposed bus lane on the A-Ring Road was designated for transportation during World Cup to achieve the desired goals, but this does not prevent the study of permanent bus lanes in the future on vital corridors and roads in the country, in line with the comprehensive transport plan for transport in the country, Qatar 2050, and the project to study the priority of bus lanes that the Ministry of Transport will prepare within the public transport network in the State of Qatar and evaluate the proposed measures in this regard.
He emphasized that the Ministry of Transport is working towards enhancing transport experience in general by adopting the latest, environmentally friendly urban and technological systems that serve transportation from different regions in the world.
In this context, Eng. Mohammed Ali Al Marri, the Secretary of the Committee for Corniche Street closure implementation plan, said that "This step comes after increasing the number of road lanes on A-Ring Road from 2 lanes to 4 lanes in each direction, to enhance road capacity, traffic flow and reduce traffic congestion, as A-Ring Road that extends from Ras Bu Abboud Bridge to Al-Diwan Intersection with Al-Rayyan road, is considered to be one of the vital roads in Doha since it links many commercial and residential areas and service facilities, in addition to linking between many tourist destinations such as Qatar National Museum, Museum of Islamic Art, Souq Waqif, Al Bidda Park, as well as developmental projects in Doha Centre like the project of Msheireb Downtown Doha." Executive Manager of Operations in Mowasalat (Karwa) Ahmed Hassan Al-Obaidly said, "This lane contributes to reducing travel time taken for public transport buses on the A-Ring Road and in Doha Centre, as well as facilitates the arrival of public transport buses on time and achieving the integration of the transportation system (buses and metro). These improvements will encourage the public to use public transportation and create a free and fast path for taxis." This lane will achieve various environmental benefits such as reducing the number of personal vehicles on the road and encouraging the use of environmentally friendly public transport, which in turn leads to reducing CO2 emissions and improving air quality, in addition to enhancing bus fuel efficiency and thus achieving the desired environmental sustainability.
It is worth mentioning that designating a lane for public transport buses on A-Ring Road is one of the measures taken by the committee responsible for managing the Corniche Street closure plan, and other priority lanes for buses passing on different routes will be determined later.
(QNA)