Oil rebounds from two days of losses in volatile trade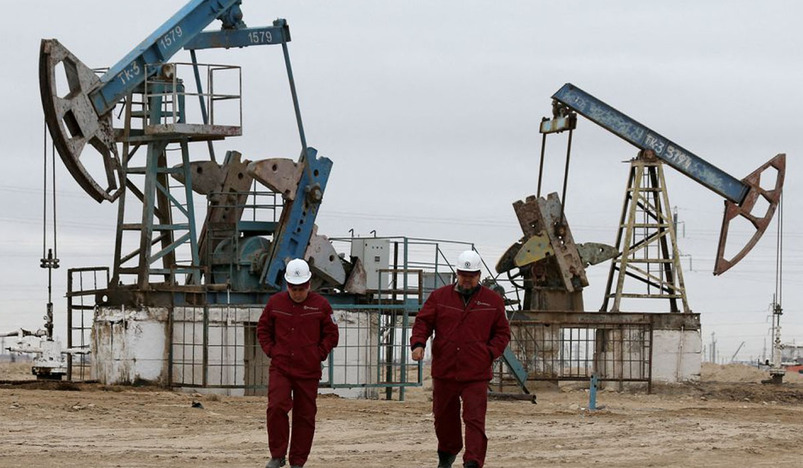 Workers walk as oil pumps are seen in the background in the Uzen oil and gas field in the Mangistau Region of Kazakhstan November 13, 2021.
Oil prices rebounded from two days of losses in a volatile session on Thursday, bolstered by weakness in the dollar and expectations that China could ease some lockdown restrictions that could boost demand.
Crude benchmarks continued their spate of wild swings, with both Brent and U.S. crude rising by nearly $5 a barrel in the span of a few hours, recovering from losses earlier in the week.
"The market has been extremely volatile," said Andrew Lipow, president of Lipow Oil Associates in Houston. "The market is reacting to all sorts of different headlines hour to hour, and the movement in oil markets on a day-by-day basis getting even more exaggerated."
Brent crude futures for July settled at $112.04, a gain of $2.93 a barrel, or 2.7%. U.S. West Texas Intermediate (WTI) crude futures for June settled up $2.62, or 2.4%, to $112.21 a barrel.
In China, investors are closely watching plans to ease coronavirus curbs from June 1 in the most populous city of Shanghai, which could lead to a rebound in oil demand from the world's top crude importer.
Oil markets also rebounded as the dollar weakened. The broad dollar index was down 1% on the day after recent gains. Oil benchmarks often move inversely to the dollar as most global crude transactions are handled in dollars, so a rising greenback makes crude more expensive for big importers.
Crude gains have been limited, however, with the Brent and U.S. benchmarks trading in a range due to the uncertain path of demand. Investors, worried about rising inflation and more aggressive action from central banks, have been reducing exposure to riskier assets.
"Brent seems pinned above $100 but I think the recession risk and all of the concerns about Chinese demand are limiting the upside and will continue to do that," said Bill Farren-Price, head of oil and gas macro research at Enverus in London.
The looming possibility of a European Union ban on Russian oil imports has been supporting prices. This month the EU proposed a new package of sanctions against Russia over its invasion of Ukraine, which Moscow calls a "special military operation."
That would include a total ban on oil imports in six months' time, but the measures have not yet been adopted, with Hungary among the most vocal critics of the plan. 
Source: Reuters / Additional reporting by Yuka Obayashi in Tokyo and Florence Tan in Singapore Editing by Marguerita Choy, Mark Potter and Nick Zieminski