Novavax Covid jab approved by UK drugs regulator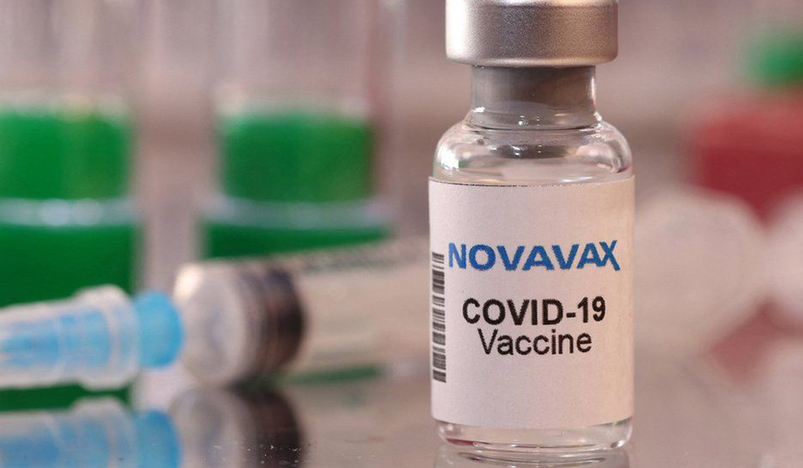 Novavax COVID-19 Vaccine
The UK has approved a fifth Covid-19 vaccine, developed by US company Novavax, which offers up to 89% protection against Covid illness.
The Medicines and Healthcare products Regulatory Agency has said it is safe as a first and second dose in adults.
Millions of doses are being manufactured at a plant on Teesside.
Health Secretary Sajid Javid says independent scientists on the Joint Committee on Vaccination and Immunisation will now consider its use.
The vaccine could then be used immediately as part of the UK vaccination programme.
"It's a testament to the country's first-rate research and development capabilities for vaccines," Mr Javid said, "with tens of thousands of people taking part in clinical trials here in the UK, contributing to the invaluable research that shows our vaccines are safe and effective."
Novavax said it still sees a role for the jab in reaching the 16% of over-12s in the UK who have not yet had two doses.
It plans to apply for extra authorisation for use in children "in the next few weeks", and to submit data for use as a booster jab, either immediately or as a possible fourth dose this autumn.
'Invaluable research'
The Novavax product - known by the brand name Nuvaxovid - was shown to be 89% effective against catching symptomatic Covid-19 in clinical trials.
The original research was conducted against both the earlier Wuhan and Alpha variants of the virus.
In December, Novavax said two doses were also effective in generating an immune response against the now dominant Omicron variant, first identified in South Africa.
The company has also started working on a version specific to Omicron.
MHRA chief executive Dr June Raine, said: "Our approval of Nuvaxovid follows a rigorous review of the safety, quality and effectiveness of this vaccine, and expert advice from the government's independent scientific advisory body, the Commission on Human Medicines."
Immune response
The jab, a protein adjuvant vaccine, is based on technology used for decades to protect people from diseases such as hepatitis and shingles.
It delivers copies of the spike protein on the surface of the virus directly into a person's cells, stimulating the immune system to produce antibodies and T-cells.
An extra ingredient, an adjuvant, then helps boost the immune response.
Scientists say this approach makes it simpler to produce than some other vaccines and means it can be stored in a refrigerator.
Prof Sir Munir Pirmohamed, who chairs the independent Commission on Human Medicines, said: "Nuvaxovid is distinct from other Covid-19 vaccines currently in use in the UK as it uses recombinant protein-based technology which has been used for many years in the development of vaccines to prevent other illnesses, for example hepatitis B."
Manufacturing setbacks
In August 2020, the government agreed to buy 60 million doses of the jab. If it is recommended for use by the JCVI, then doses are initially likely to come from the Serum institute in India.
A factory in Billingham, Stockton-on-Tees, has also been producing a key ingredient of the jab since February 2021, with a second site in nearby Barnard Castle expected to provide the fill-finish capacity - putting the vaccine into vials and packaging.
But setbacks to the approval process around the world have led to concerns about jobs in the area.
Novavax had to delay its submission to US regulators multiple times because of development and manufacturing setbacks.
It was eventually filed on Monday.
SOURCE: BBC