Northwestern University in Qatar Welcomes its Class of 2027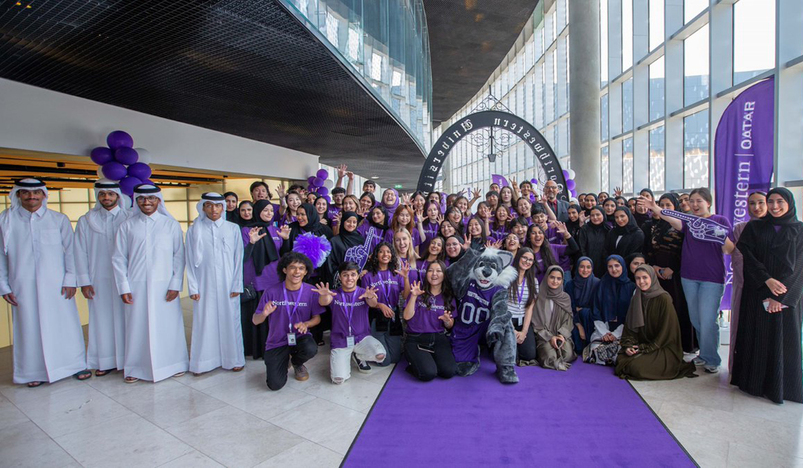 Northwestern University
Northwestern University in Qatar, a Qatar Foundation for Education, Science and Community Development partner university, welcomed 16th incoming class, the Class of 2027, which includes 116 dynamic students who were chosen from a pool of more than 1,300 applicants from 25 countries.
Dean and CEO of Northwestern Qatar Marwan M. Kraidy said, "These exceptional students possess the passion, curiosity, and drive that will make a difference in the media and communication landscape. We are confident that they will positively contribute to our community and make an impact on the world around them." Among the new Qatari students who make up nearly 60 percent of the incoming class is Dana Ziani, who decided to pursue her academic journey at Northwestern Qatar to merge her passions and unlock her full potential as a health communication professional. Driven by her desire to leverage her scientific knowledge and passion for media to create a positive impact on society, she is determined to make a difference in the field of health communication.
"As someone who is passionate about both science and media, NU-Q seemed like the right place for me to gain the necessary skills, resources, and mentorship needed to excel in my career as a health communicator and contribute to the well-being of people and communities in Qatar and around the world," said Ziani. Prior to starting her undergraduate career, Ziani was part of the Qatari Youth Delegate to the UN, and now, as a student at Northwestern Qatar, she plans to work on campaigns for health awareness.
Another student is Dogyu Lee, a multifaceted storyteller from South Korea with a deep passion for writing and playing the violin. Recognizing the immense potential of media development in the Middle East and the Global South, he decided to join Northwestern Qatar to be at the forefront of media development in the region and gain opportunities to grow his craft and contribute to the field of arts and media on a global scale.
Luka Grondskyte, an international student from Lithuania, is an aspiring researcher who chose to study at Northwestern Qatar to hone her research skills and grow as a well-rounded researcher. With a global perspective and a passion for understanding the dynamics of societal transformations, she will focus on examining nationalism and cultural identities in the post-Soviet era during her undergraduate career.
"Studying at Northwestern Qatar will not only offer me research and fellowship opportunities that will help me grow as a researcher but also a unique global perspective into the different research topics Im interested in exploring," she said.
(QNA)