Newly Opened Restaurants in Qatar in May 2022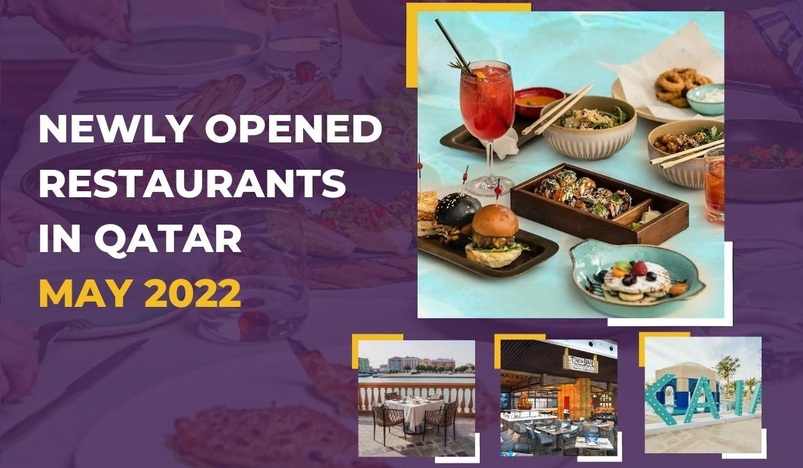 May 2022 New Restaurants in Qatar
Are you looking for cool new places to eat in Qatar? From luxury restaurants to Instagrammable cafes, there are many great dining places in the country that you should not miss.
Here are some of the best newly opened restaurants in Qatar in May 2022:
KAIA BEACH CLUB
Restaurants in a Boutique Beach Club Experience
Behold a boutique escape. There are no agendas - enjoy at your leisure. A combination of relaxed chic, and complete indulgence await the discerning guest.
Location: Hilton Salwa Beach Resort & Villas, Salwa Road Exit 84, Learaig Interchange, Abu Samra
Reservations & Inquiries: Book your tickets at www.q-tickets.com or contac +974 5572 2235
Timings: 
• Sat, Mon-Wed (10am-8pm)
• Thurs & Fri (10am-12am)
The Taste Of KAIA
KAIA's renowned chefs play with flavours from around the world, and mix the freshest ingredients with the most indulgent recipes to create an extensive menu that spans dishes of healthful salads, innovative sushi rolls, freshly caught seafood, Mediterranean tapas and local street foods.
Nestled on 3.5kms of private island, discover a beachfront hidden gem with KAIA Beach Club. This piece of paradise is located at luxurious Hilton Salwa Beach Resort on the sunny southwest coast of Qatar.
The resort features stylishly outlined rooms, suites and villas, an adventure waterpark, a marina, sophisticated cuisine from more than 20 restaurants, as well as relaxation and fitness experiences by eforea spa, providing the ultimate getaway experience.
The 5-star brand new property is perfectly placed to escape the city, feeling a world away, taking in Qatar's magnificent landscape.
Find your ultimate retreat, a perfectly tailored experience blending elements of music, dining, entertainment & relaxation in one luxury destination.
Relaxing days blend into beautifully free spirited nights, with powerhouse DJs that command the party 'til late.
KAIA Beach Club exudes a laidback vibe with a sunset party atmosphere, providing a nightlife sensibility that caters to even the worldliest of partygoers.
Uniquely crafted packages ensure indulgence & serenity cohabit peacefully, a sanctuary from the mundane with an immersive getaway retreat.
?Relax in a beautiful environment, in the glamorous principality of Qatar, with stunning sunsets across the Arabian Sea and world-class entertainment.
A continual summer state of mind, it's the hotspot you'll never want to leave...
TEXAS DE BRAZIL
An authentic Brazilian-American steakhouse (Churrascaria), with an all-you-can-eat unique experience recently opened its 5th GCC branch at the Mall of Qatar.
Location: Lower Ground Floor (Facing the Main Oasis) Mall of Qatar, Ar-Rayyan, Qatar
Reservations & Inquiries: +974 5513-3365
Sunday - Thursday:
Sun - Wed - 11:30am - 11:30pm
Thurs - 11:30 am - 12:00am
(11:30am-4pm) Classic QAR 179
(All Day) Churrasco QAR 235
(11:30am-4pm) Salad Bar QAR 95
(4pm - Close) Salad Bar QAR 125
Friday - Saturday
Fri - 1:00pm - 12:00am
Sat - 11:30am - 11:30pm
Churrasco QAR 235
Salad Bar QAR 125
Menu:
Classic – Meat & Salad Bar (excludes premium cuts)
Churrasco – All Meats Including Premium Cuts/Shrimp & Salad Bar
Children 6-12 are half off and children under age 6 are complimentary
"We're excited to once again partner with Gourmet Gulf and open our first restaurant in Qatar," said Salim Asrawi, President of Texas de Brazil. "Mall of Qatar is the region's favorite destination for shopping, entertainment and dining, making it the perfect location to introduce our unique Brazilian churrascaria dining experience to residents and visitors alike."
Following the success of Texas de Brazil in the UAE and KSA, the chain – which boasts 63 branches, including 12 outside the US – now has a new home in Doha, one of the most vibrant and growing cities in the region.
"Qatar's hospitality industry is thriving and there is growing demand for best-in-class international restaurants," said Sami Daud, Executive Chairman of Gourmet Gulf. "Qatar's largest shopping destination is the ideal location for us to launch the highly successful Texas de Brazil dining experience."
Guests can enjoy an array of grilled beef carved by experienced Gauchos, as well as lamb, prawns, chicken and sausages. The interactive dining experience allows guests to indicate whether they want more cuts to be served at their table or not by placing a red or green disk prop by their side. A rich salad station, decorated by large tropical flowers, and featuring over 50 gourmet items, such as imported cheeses, charcuterie, roasted vegetables, and lobster bisque is also available, as well as a variety of mocktails and decadent desserts from the à-la-carte menu.
"We are thrilled to welcome yet another internationally renowned dining brand such as Texas de Brazil to Mall of Qatar," said Emile Sarkis, General Manager of Mall of Qatar. "We are committed to attracting global names to Qatar to provide our customers with diverse menu options and satisfy their culinary cravings. Well-known for its authentic and special cuts grill selection, the Brazilian steakhouse is a perfect and timely addition to our growing appetizing food offerings. I am confident that residents and tourists will have a date with us at Texas de Brazil's first outlet in Qatar. We look forward to welcoming them to savor their flavorsome menus." 
The steakhouse, located on the ground floor of Mall of Qatar near the main oasis, can accommodate over 150 guests across indoor and outdoor areas.
LOBITO DEL MAR
Lobito De Mar by Chef Dani Garcia is a restaurant that brings the freshness of the sea to the urban jungle. A casual beach restaurant in Marsa Malaz Kempinski The Pearl Doha, it also serves as a seafood tapas bar, all in one.
Location: Marsa Malaz Kempinski The Pearl Doha
Reservations & Inquiries: +974 3100 0373 (WhatsApp)
Opening Hours:
All-day Dining:
• Fri - Sat 14:00 - 01:00
Dinner:
• Tue - Wed 18:00 - 01:00
• Thu -16:00 - 01:00
• Sun - 18:00 - 01:00
Restaurant Style:
• À la carte, Tapas, Bar, Fine dining
Dress Code:
• Smart Casual
Cuisine:
• Tapas, Seafood, Spanish
• Texas De Brazil 
• Kaia Beach Club
The restaurant is inspired by the most popular and accessible fish, seafood and paella dishes and it is everything that Dani Garcia knew during his childhood, a maritime gastronomy that is so typical of the south of Spain.
Always linked to a kitchen in which the produce is the main protagonist, Lobito de Mar is based on a typical beach chiringuito, where the menu and the bar are always differentiated.
The restaurant aims to stand out for its produce and menu which changes daily. It sources daily in the best fish markets in Spain to find the freshest fish and seafood. Lobito de Mar is located at the Marsa Malaz, Costa Malaz Bay.
These are our top recommendations for restaurants that have just opened in Qatar. For more restaurant listings, check also: Restaurant & Reviews