New Service Allows You to Book a COVID-19 Vaccine Appointment and Get PHHC Support in Qatar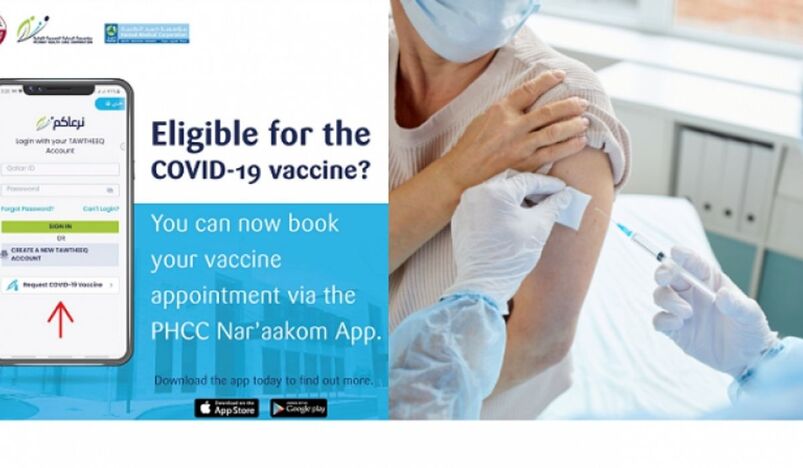 New Service Allows You to Book a COVID-19 Vaccine Appointment and Get PHHC Support in Qatar
Haven't taken your first dose of COVID-19 vaccine yet? You can now book your vaccine appointment via the Nar'aakom App, and gain access to more Health Center services!
The bilingual mobile app was launched by Primary Health Care Corporation (PHCC) to allow Qatar citizens and residents to register for coronavirus (COVID-19) vaccination appointments online.
Not just that, but the app has more features to cater to your health center needs. Keep on scrolling to know more about this app.
What is the Nar'aakom app?
Nar'aakom is an extension of the digital transformation of health care services that PHCC rolled out in 2020, empowering people to access health services anywhere and anytime, at their convenience thus encouraging patients to take ownership of their own health.
PHCC's Nar'aakom smartphone app provides comprehensive digitized healthcare management on-the-go. With this app, you can:
• Accessing upcoming appointments
• Applying for a health card online
• Access PHCC services at its 27 Health Centers
Read also: How 'Nar'aakom' — the new app of PHCC healthcare services can help people living in Qatar?
How to download the app?
Available for both iPhones and android devices, the Nar'aakom app can be downloaded from the Apple App Store and Google Play Store in Qatar.
Download the app from the:
• App Store at http://apple.co/38X9qFX
• Google Play at http://bit.ly/38RZyx6
Who can access the app?
The new service is available for both citizens and residents of Qatar. Those who are eligible to register for a health card with PHCC can access this service. 
The new service is not accessible to people holding QIDs with expiry dates beyond the one-year grace period allowed by the Government and hence they will not be able to submit vaccine appointment requests through Nar'aakom.
Who is now eligible for COVID-19 vaccine in Qatar?
The current priority group for COVID-19 vaccine eligibility is 30 years and above,  however children aged 12 to 18 years can also be registered to get the Pfizer-BioNTech COVID-19 vaccine in Qatar.
Eligible for the COVD-19 vaccine ? You can now book your vaccine appointment via the PHCC Nar'aakom App.
Download the App from the
App Store https://t.co/7c1dhr9gv6
Google Playhttps://t.co/6503nCweXP#YourSafetyIsMySafety pic.twitter.com/DPoT8gSHut
— ????? ??? ?????? (@HMC_Qatar) June 27, 2021
How to book a COVID-19 vaccination appointment using the app?
To book a COVID-19 vaccination appointment, patients can download, register and login to the Nar'aakom app.
Here are the easy steps:
• Click on E-Services
• Choose 'Request COVID-19 Vaccine
• Enter your QID number
• Receive an OTP for verification, followed by a clinical questionnaire
• Access the booking form with an auto-selected box picking up your previously assigned Health Center
• Select from 3 preferred dates and timings for the appointment
• Get a confirmation SMS with a reference number
Note: 
• The Health Center reception staff will review and validate the request submitted and then call you to confirm date and time for appointment. 
• Once confirmed, you can then book and confirm the appointment through the system and receive a confirmation SMS for the appointment. 
• If you fail to respond after 3 unanswered calls from the reception staff of your local Health Center, your request will be put on 'pending' status. 
What if I do not know my Health Center?
Eligible patients who do not know their designated Health Center can also submit an online request, the Health Information Management team will assign the nearest Health Center, based on the patient's residential address. The Health Center staff will then send an SMS, with an appointment reference number to the patient 
"We are always looking for ways to make it easier and more convenient for the people of Qatar, our patients and the community, to be able to access our services. Designed to handle a large number of  appointment bookings, our vaccine scheduling system allows us to manage patient flow smoothly, reduce the footfall in our health centres, encouraging social distancing." said Dr Mariam Abdul Malik,  managing director at PHCC.